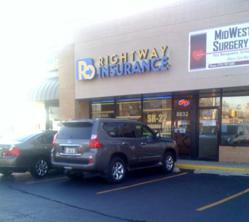 each customer receives the time and the personalized service they deserve. Rightway is not a phone-service only business. Our like to personally talk and meet each customer, when possible
Chicago, IL (PRWEB) October 17, 2012
Rightway Insurance Agency, a leading providers of car insurance quotes in Chicago announced that it has launched its website, rightwayins.com, which will provide basic customer service including online car insurance quotes to Illinois residents.
Al Snenneh, Spokesman for the Agency said that "Rightway is a small insurance agency on the southwest side of Chicago, but is one of the key players in the area, due to its extensive experience in the Chicago auto insurance business, centralized location, serious attitudes towards customer satisfaction, and special focus on the insurance for the Latino in Chicago." Snenneh thinks that "Rightway is not the provider of the cheapest auto insurance rates in Chicago, but the auto insurance rates offered come with remarkable tender loving care of its personnel."
Rightwayins.com offers information about the Agency, location, insurance product and services, and all forms for the auto insurance rates in Chicago. Clients can login and get instruction of how to get quotes.
The advantage of Rightway Insurance is that "each customer receives the time and the personalized service they deserve. Rightway is not a phone-service only business. Our like to personally talk and meet each customer, anytime its possible," Mr. Snenneh said.
ABOUT RIGHTWAY INSURANCE AGENCY
Rightway Insurance Agency is a key player in the market of auto insurance quotes in Chicago. The Agency's insurance service mix includes the following:
Auto Insurance Quote
Business Owners (BOP) Policies
Commercial Auto Insurance Quotes
General Liability Quotes
Homeowners Insurance Quotes
Liquor Liability Quotes
Mexico Travel Insurance Quotes
Motorcycle Insurance Quotes
Renters Insurance Quotes
Truck Insurance Quotes
Illinois Workers Compensation Quotes
CONTACT INFORMATION
Name: Al Snenneh
Address: 8632 S Pulaski Rd , Chicago , IL 60652
Phone: (773) 498-2280
Email: auto (at) rightwayinsurance (dot) com