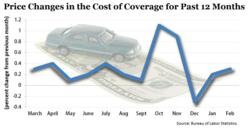 Houston, TX (Vocus/PRWEB) March 22, 2011
The price of insuring U.S. autos continues to rise slowly, according to the latest report from the Bureau of Labor Statistics (BLS). The BLS's latest edition of its monthly Consumer Price Index (CPI) indicated that the price of the average auto insurance policy rose by about 0.3 percent between January and February. The costs of coverage is rising at a slower rate than the price of goods overall.
Eleven out of the past 12 month-to-month changes in the price of vehicle insurance have been increases. As a result, the BLS says that the price of a policy in February 2011 was 4.2 percent higher than it would have been in February 2010.
Source: http://bls.gov/cpi/cpid0211.pdf
According to the most recent data from the National Association of Insurance Commissioners (NAIC), the average premium for an American car insurance policy in 2008 was about $903. After factoring in subsequent price changes documented in the CPI, the same policy would cost around $989 today.
But the upward trend in costs does not necessarily mean that consumers are spending more on policies. This is because motorists have the option of shopping around and maximizing savings by adjusting coverage, finding competitive providers and utilizing discounts.
The BLS bases its price-change estimates on a sample of more than 700 policies from all over the country. Changes in insurer rate calculations and state law are reflected in the monthly reports.
To learn more about this and other coverage issues, readers can go to http://autoinsurance.com where they will find a number of resources on the basics of getting adequate and affordably priced coverage. Visitors to the site can also make free use of the quote-comparison generator, which can produce personally tailored rate estimates from a number of top carriers.
###