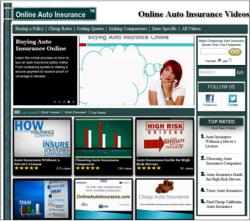 Rancho Cucamonga, Calif. (PRWEB) September 06, 2011
OnlineAutoInsurance.com, the originator of the nationwide public rating engine, has unveiled http://videos.onlineautoinsurance.com/ to aid consumers in answering a number of coverage questions by watching informative and entertaining videos.
Transcending its role as a provider of timely news, consumer reviews and instant quotes from a variety of automobile insurers, the site now offers online videos to lead viewers through every step of the coverage-buying process.
"We are happy to give consumers another way to educate themselves about insurance issues and decide on the coverage that's right for them," said Cesar Diaz, founder of the site and a veteran agent. "Our video guides may be the easiest way yet to learn how to save money and find the right policy."
The new site features a growing library of videos on topics such as how to compare policies and find the cheapest rates, how to qualify for money-saving discounts and the ins and outs of buying a policy, as well as some state-specific information on obtaining coverage across the country.
The auto insurance videos are professionally made, informative and take only a minute or two to watch.
The videos also cover lesser-known information, such as how to find month-to-month coverage with low or no down payment required, finding the lowest rates available for drivers who are classified as high risks because they're young, older or have a less-than-perfect driving record, and even how to get covered without a driver's license.
The site adds to the broad range of services offered by OnlineAutoInsurance.com, which include informative resource pages, an easy-to-use quote-comparison generator and breaking news and insightful analysis on industry trends.
The launch of the new video site is another step toward the company's goal of being the one-stop source for objective insurance information that empowers the individual online consumer.
###