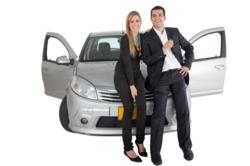 Georgia Auto Finance's website will serve as a valuable resource for Georgia car shoppers of all credit tiers and income levels.
Atlanta, GA (PRWEB) February 27, 2013
Georgia Auto Finance, a leading provider of auto loans for Georgia residents, has just launched a new website to better serve its customers. The new website includes a wealth of information for car shoppers and prospective borrowers, including average interest rates, budgeting information, a comprehensive auto loan calculator, and a detailed synopsis of how the approval process works. The marketing language on the website reflects the company's core principles: professionalism, integrity, and unparalleled service. No hyperbole or aggressive sales tactics are used. Rather, the website will serve as a valuable resource for Georgia car shoppers of all credit tiers and income levels.
Interested readers can access the website here: http://www.georgiaautofinance.com.
The website offers a very important tool for anyone in need of an auto loan in Georgia, a secure online application. Whereas in the past, a consumer may have to apply in person, by hand, at a bank or dealership, Georgia Auto Finance's online application is completely paperless. Applications enter the company's sophisticated application placement platform, wherein they are matched to an appropriate lender or dealer in the company's network. This process is particularly beneficial for consumers with credit problems, as the company has a wide array of lending partners in its network who serve the subprime credit tiers. When more than lender or lender is interested in funding an applicant's loan, the dealers compete within the company's online marketplace. In this way, each client can be sure that they are matched with the dealer or lender who wants their business the most.
A senior VP of the company remarked, "Traditionally, loan-seekers had to go and apply in person at various lenders, hoping they would be approved for financing. Our company is removing all of the legwork and headaches from this process, by taking it online." He went on to explain that the company also hopes to engage more with the clients and prospective users through the website's blog, which will combine local automotive news with financing and car-buying tips from the pros.
About Georgia Auto Finance:
Georgia Auto Finance, a division of My Car Lender, is fast becoming one of the leading financial service providers in the state of Georgia. The company has built an impressive statewide network of lending partners who can accept user applications through the company's online approval platform. The company has a success rate of nearly 90% when it comes to application placement.