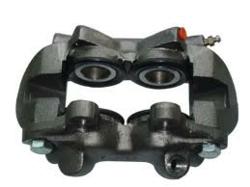 The pricing that is now established by this company is helping many buyers to find more affordable ways to obtain parts.
Colorado Springs, Colorado (PRWEB) May 10, 2013
Auto parts resources are designed to provide replacement parts for new and classic vehicles. One drawback buyers can find when performing parts research is the shortages in inventory and fluctuation of pricing between sellers. The AutoProsUSA.com company built its company selling used parts and is now distributing auto parts in Colorado Springs. This expanded parts distribution is one example of changes that have been made by this company in 2013. The parts in stock can be viewed and priced at http://autoprosusa.com/used-auto-parts-colorado-springs-co.
Automakers producing parts for direct installation of vehicles supply OEM replacement units to dealerships. These original equipment manufactured parts are designed to be direct replacements for new and classic vehicles.
The non-discounted MSRP pricing that can be found through authorized sellers of OEM parts can complicate the buying patterns of auto parts researchers in some parts of the country. The new distribution to cities around Colorado Springs is expected to create new opportunities for more buyers to benefit.
The Auto Pros USA company introduced its online quotation system this year. Updates to this system have recently been made to expand the company inventory on the Internet. These upgrades now provide immediate access to the complete stock of parts now for sale as well as up to date pricing. The pricing that is now established by this company is helping many buyers to find more affordable ways to obtain parts. This new search tool provides the ability to receive immediate quotes without the need for calling in advance to receive assistance.
The price quote system that is now established has helped this company to expand its Colorado distribution. Aside from these new shipments, other states have been added to the company network. Michigan, Ohio, Texas and New York represent the current states that have helped to build the company reputation as a parts supplier. Additional states are expected to be added before the close of the year as one effort to supply more sections of the country with replacement auto parts at prices lower than retail list prices.
About AutoProsUSA.com
The AutoProsUSA.com company created its online resource to provide discount auto parts from import and domestic automakers. This company now holds thousands of parts that are distributed to buyers in all portions of the U.S. The intelligent search system that is now installed on the company website was designed to revolutionize the secondary parts market. The AutoProsUSA.com system allows instant pricing comparisons for any in stock part and pricing from competing companies can be obtained for buyers. This company has created its customer policies to ensure that each order is processed rapidly and a higher level of customer service is available with every order.