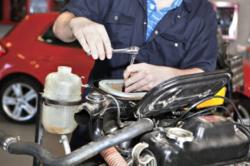 These services are designed to attract new sources of qualified customers to increase online and offline sales.
Danbury, Connecticut (PRWEB) June 05, 2013
Auto industry companies rely on customer relationships to provide parts sales, service and distribution. Reaching new customers in the automotive industry is one part of the new services offered by the AutoProsUSA.com company. This company is now providing auto parts marketing for business of all sizes at http://autoprosusa.com/advertise. These services are designed to attract new sources of qualified customers to increase online and offline sales. Affordable packages are now in place and cancellation is offered at anytime.
The number of auto body shops in North America grows annually due to the amount of new cars sold each year. While dealerships support warranty work, many secondary auto parts companies receive the bulk of non-warranty parts work. From parts installations to retail sales, these companies play an important role in the U.S. auto industry.
The marketing services now offered by the Auto Pros USA now supplies 300,000 new customers on a monthly basis to clients with new acquisitions growing this number daily.
The expense of advertising on television or radio is not one that all companies can manage. The traditional offline methods for advertising are usually centralized in a specific town or regional area. The marketing that is now performed by the marketing experts at the AutoProsUSA.com company includes mult-state marketing. Companies trying to reach customers in a specific area or nationwide could benefit from this national marketing. From salvage companies to junkyards, the promotion services that are now offered includes low cost auto parts leads of customers ready to purchase.
Part of the new auto repair marketing and salvage leads services includes website design. Having an attractive website provides one piece of the marketing puzzle. The new requirements by some search engines can complicate the ranking of new or established company website. The Auto Pros USA company employs a full-time design staff who work closely with companies to build visually appealing website that serve as an online portal for generating new customers. These design services are in addition to the complete marketing packages currently available.
Interested companies can use the new national address in use by current automotive clients. All requests for marketing services or additional data can be forwarded to:
Auto Pros USA
1270 Crabb River Rd.
‪Richmond, TX 77469
(888) 230-1731
(713) 560-7017
About AutoProsUSA.com
The AutoProsUSA.com company lists one of the most complete secondary auto parts databases online used by automotive customers in all 50 U.S. states. The close partnerships with national suppliers has helped to build the current database of preowned parts available for retail sale. This company has expanded its business services online to include auto industry market and lead generation for auto industry companies. The AutoProsUSA.com company website provides an informational center for parts research or business information designed to help the trade industry and those purchasing parts for retail sale. This company data goes through several daily updates to assure accuracy.