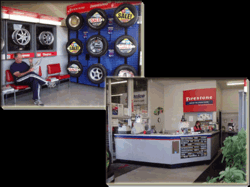 Nitrogen is all around us, when used to replace oxygen and other gases in tire inflation, it enhances handling, improves fuel efficiency, and extends the life of your tires
Pacifica, CA (PRWEB) June 17, 2011
Sanford Firestone, a Pacifica tire store, is now offering nitrogen for vehicles. This is a revolution in ensuring proper tire pressure and gives car owners additional safety on the road.
"Nitrogen is all around us," said John Sanford of Sanford Firestone. "When used to replace oxygen and other gases in tire inflation, it enhances handling, improves fuel efficiency, and extends the life of your tires."
Nitrogen has been found to be one of the most beneficial gases that can enhance handling, improve fuel efficiency, extend tire life, and save the earth. By reducing the percentage of oxygen, water vapor, and other gases in tires and filling it mostly with nitrogen gas, proper pressure can be maintained in tires. This is especially important to car owners who fail to regularly check their tire pressure. Proper tire pressure will lessen the rolling resistance and increase the car's fuel efficiency. Unlike nitrogen, oxygen can make the rubber brittle and cause it to lose tensile strength.
That is why car owners who are in need of tire inflation can rush to Sanford Firestone and get their tires filled with nitrogen. NASCAR, commercial airlines, and even the U.S. Government are currently using nitrogen.
For more information about Sanford Firestone's Pacifica – Daly City auto repair services and their nitrogen-filled tires, call (650) 557-4468, or visit them on the web at: http://www.sanfordfirestoneSF.com.
About Sanford Firestone Auto Repair
Sanford Firestone Auto Repair is a Pacifica - Daly City tire store and auto service shop that specializes in sales and service of tires, auto air conditioning, batteries, belts, CV, drive axles, car exhausts, shocks, and struts. The Pacifica - Daly City brake repair shop also offers computerized alignments, computerized engine analysis, transmission maintenance, wheel balancing, brake repair and smog inspections.
Sanford Firestone Auto Repair serves all of the San Francisco Bay Area, including the peninsula cities of Colma, Daly City, Pacifica, San Bruno, San Francisco, and Sharp Peak.
###