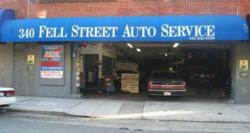 Our customers are important to us and we want to celebrate them and show our appreciation by offering them discounts on car services
San Francisco, CA (PRWEB) October 01, 2011
Fell Street Auto Repair, located in San Francisco, has announced they will be holding Customer Appreciation Days and will also be offering a 20 percent discount on all auto repairs for their loyal customers.
"Our customers are important to us and we want to celebrate them and show our appreciation by offering them discounts on car services," says Myron Kuang, owner of Fell Street Auto Repair.
Fell Street Auto Repair has built a reputation as one of the premier auto service and repair shops in the San Francisco Bay Area. They specialize in providing auto repair services for all makes and models both foreign and domestic. They use the latest specialized computer diagnosis equipment to ensure every vehicle is repaired correctly. In addition, they can provide exceptional services such as smog check, brake repair, wheel repair, and auto body repair services.
During their Customer Appreciation Days, Fell Street Auto Repair will be offering a 20 percent off discount for all customer repairs, free brake inspection, free check engine light diagnostics, and oil changes for only $23.98 on most vehicles. These discounts will be valid when a customer mentions that they read this article.
For more information on Fell Street Auto Repair and their services, give them a call at (415) 529-4514 or visit them on the web at http://www.fellauto-sf.com. Fell Street Auto Repair is conveniently located at 340 Fell Street, San Francisco, CA 94102.
About Fell Street Auto Repair
Fell Street Auto Repair is proud of the professional reputation they have built over the years of serving the auto repair needs of San Francisco and the surrounding communities. They specialize in servicing all makes and models of cars, computer diagnosis, smog check, auto and body repair. They continually invest in state-of-the-art equipment and technology to stay ahead in the auto repair industry.
# # #