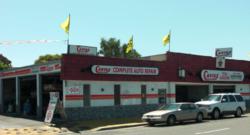 We invite our customers to visit our website to take advantage of their great coupons we have to offer
San Jose, CA (PRWEB) December 13, 2011
When the economy is booming, people often buy or lease cars and get rid of them quickly to trade up to the new models. However in the last half decade or so, Cartex One Stop Auto Shop has seen an increase in business because motorists are looking to keep their car running for longer than ever before.
They often turn to Cartex because of their expertise and experience in repairing and preserving their rides. To help out their loyal customers, Cartex One Stop Auto Shop is offering coupons.
"We invite our customers to visit our website to take advantage of their great coupons we have to offer," says Joseph Galas of Cartex One Stop Shop.
The featured coupons for December include a smog check for $31.75 plus $8.25 for the certificate. The coupon is good for American and Asian cars models of 1996 and newer. The special is good Monday through Saturday. Another coupon is $20 off their professional break service. They also offer an oil change of $19.95, a savings of $10.
Cartex One Stop Auto is the all-encompassing resource for San Jose Auto Repairs specializing in car alignment, air condition repair, as well as any general engine issues that need careful attention. Founded in 1985, Cartex's well experienced in-house professionals have been servicing our faithful San Jose clientele with nothing below superior results and customer service.
Cartex One Stop Auto can be reached at 408-329-9170 or by visiting them online at http://www.cartexauto-Sj.com. They are located at 438 S. Bascom Ave. in San Jose.
About Cartex One Stop Auto
Cartex One Stop Auto specializes in a variety of auto repairs, including air conditioning repair, car alignment, brake repairs and replacement along with engine and transmission issues. We serve the San Jose community, as well as all surrounding areas of Santa Clara County and the Greater Bay Area.
###