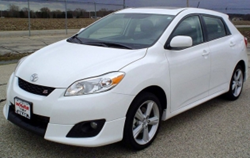 Both North and South Carolina yards can be found while using our dedicated system to help auto parts buyers find good pricing and better selections of inventory
Charlotte, NC (PRWEB) March 21, 2015
The state of North Carolina is now one of the largest areas in the country to find second hand automobile parts retailers. Adults who are not available to visit these yards in person will now have a way to explore inventory using the LocateCarParts.com website. Auto salvage yards in NC are now searchable in real time at http://locatecarparts.com/auto-salvage-yards-in-nc.
The parts location tool is expected to open up a different method of finding domestic or foreign components for sale. Consumers who enter the state searchable system select a part as well as a vehicle year that will be used by NC yards to calculate prices. All salvage yards participating in the search system distribute price quotations.
"Both North and South Carolina yards can be found while using our dedicated system to help auto parts buyers find good pricing and better selections of inventory," one LocateCarParts.com source said.
Because salvage dealers differ from a regular junk yard, parts research can be more specific for a consumer. A salvaged motor vehicle is often purchased through insurance companies or at auto auctions in order to obtain the best quality components. The locator tool now available can be used by auto body mechanics, consumers or third-party retailers of vehicle components.
"Value when buying used auto parts means an affordable price, good warranty plan and a timely shipping schedule in the U.S.," said the source.
The Locate Car Parts company portal is now active and can be used with any PC or device that has a connection to the Internet. For consumers new to buying secondary market vehicle parts, an about us page at http://locatecarparts.com/about is now posted to introduce what the company provides and how the search portal operates.
About LocateCarParts.com
The LocateCarParts.com company supplies methods to review and compare pricing from salvage yards across the U.S. online. The company connects with yards and second hand suppliers of components monthly. The LocateCarParts.com company now provides one of the largest inventories on the web that is searchable across any mobile device to find preowned vehicle parts and accessories.