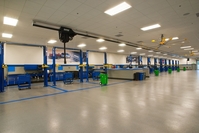 Everyone I dealt with at Marin Honda Service went well beyond what was required of them to have my Honda Pilot repaired and back to me
San Rafael, CA (PRWEB) December 30, 2011
Marin Honda, San Francisco auto service center, is celebrating the holidays with special discounts on a variety of auto services. The savings last until December 31st.
During the Holiday Service Special, Marin Honda is offering: savings on a mid-week oil change, up to 15% savings on various services, a no-charge check engine light inspection (with repair), a special discount on timing belts, and 15% off on four-wheel alignment jobs.
"I don't usually post reviews, but I realize there must be a lot of other people out there that are looking for a place to have their Honda serviced Everyone I dealt with at Marin Honda Service went well beyond what was required of them to have my Honda Pilot repaired and back to me," stated one satisfied customer. "Thank you again Marin Honda for your kindness and professionalism."
Marin Honda specializes in providing excellent vehicle service with the client's interests in mind. As a well-established dealership and auto service center, they have built their company foundation on extending excellent customer service to all clientele. Marin Honda also carries a wide variety of genuine parts and accessories for Hondas.
For more information about the holiday service specials, or for information about auto body parts or any other products or services offered by Marin Honda, give them a call at (415) 413-3476 or visit their website at http://www.marinhonda.com. "Like" them on Facebook at facebook.com/MarinHondaCA. Follow them on Twitter @marinhonda. Marin Honda is located at 2 Shoreline Parkway San Rafael CA 94901.
About Marin Honda
Marin Honda is a Honda dealer, specializing in new and used car sales and service. While majority of their fleet is comprised of new Honda models and used Honda models, they also carry a wide variety of used cars for all prospective customers. Information regarding their current fleet can be viewed at http://www.marinhonda.com.
###