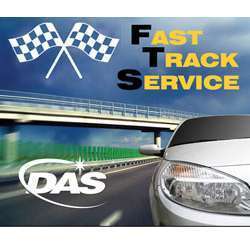 Our Fast Track Service is something none of our competitors or anyone else in the industry is offering. We believe this unique service with our quality of customer service really sets us apart from the competition
Mesquite, TX (PRWEB) September 20, 2007
Leading the way in offering advanced services for automobile transport, Dependable Auto Shippers(DAS) announced today that it has launched a first of its kind auto transport service in the industry. Fast Track Service, the new DAS program, expedites the time customers are quoted to transport, relocate and deliver their vehicles.
"Our Fast Track Service is something none of our competitors or anyone else in the industry is offering. We believe this unique service with our quality of customer service really sets us apart from the competition," says Bob London, Executive Vice President of Dependable Auto Shippers.
The Fast Track Service can significantly cut down the moving time it takes to transport and relocate standard sized vehicles such as cars and trucks. In most cases, the time quoted for transport of a customer's standard sized car or truck can be cut in half by selecting the new expedited program.
"This service fills a great void in the market that customers were asking for. Fast Track Service was that answer. We will deliver the car or truck in half the time or you get your money back," London also stated about the new Fast Track Service.
The expedited transport service includes a money back guarantee; if the vehicle doesn't make it to its destination within the quoted expedited time, customers are entitled to a refund. DAS offers two types of Fast Track Services, 7 Day Guarantee and 10 Day Guarantee.
Customers wishing to upgrade their vehicle transport service to the Fast Track Service just have to call 1-866-261-9514 and the customer service representatives will work with them to upgrade to the right program that fits their needs.
About Dependable Auto Shippers
Dependable Auto Shippers is the United States' largest privately owned provider of vehicle relocation services. Founded in 1954, Dependable Auto Shippers operates from its headquarters in Texas, with branch offices in Chicago, New Jersey, California, and Florida. Using a network of 95+ terminals worldwide, DAS ships cars, trucks, vans, and motorcycles around the world. With a variety of different auto transport vehicles to choose from, a customer can choose to have their vehicle shipped in an enclosed truck, or delivered to the smallest side street on a flat-bed. DAS offers the convenience of either door-to-door pick-up and delivery, or pick-up and delivery to a terminal. For more information about auto shipping with DAS, visit http://www.dasautoshippers.com.
For more information:
Leida A. Bartmess
Marketing Manager
Dependable Auto Shippers, Inc.
3020 East Highway 80
Mesquite, Texas 75149
800.826.1083 x5007
972.288.3180 fax
# # #