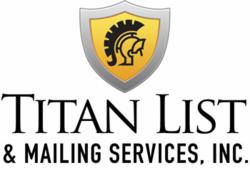 We've always been privy to exceptional data regarding the mortgage industry… the automotive industry is an area that we have begun targeting more fully because it operates under the same principles
Deerfield Beach, FL (PRWEB) July 27, 2012
Titan List & Mailing Services, Inc., a leading direct marketing direct mail ad agency in the mortgage industry, has recently been expanding into other industries such as automotive.
"Every direct mail company would like to expand their business reach to new markets. This is especially true in an economy that, while struggling across the board, still rewards outstanding yield for well-timed, well-researched ad campaigns that target the correct consumer base," said Jared Braverman, Director of Marketing at Titan List.
"We've always been privy to exceptional data regarding the mortgage industry. That was what we started doing back in 1998 and we've been very successful in that area," said K. Justin Restaino, Vice President of Titan List and Mailing. "But the automotive industry is an area that we have begun targeting more fully because it operates under the same principles—a well-targeted ad campaign sells cars."
The same direct mail marketing techniques used to market mortgage re-financing to homeowners can be applied to the automotive industry. Credit bureau data and other selects are used to find pre-qualified candidates and narrow down the type of consumer an automotive shop wants to target. "The criteria of the data selected ultimately depends on the consumer the car dealership is aiming for," said Braverman. "If an auto shop wants to fortify their bottom line with sub-prime buyers, they could leverage Experian True Credit, loan maturity, and income qualifier data to identify consumers with the ability to act. We are also able to obtain Auto Triggers; potential buyers that are in a dealership getting their credit pulled for a purchase – triggers offer a great ROI for dealers that are good closers. It's all about maximizing efficiency in advertising. If you know how to obtain data that matters and communicate with consumers who have the ability to act, that's more than half the battle. We've excelled in the mortgage industry, and the auto industry works under the same principles."
Unlike mortgage re-finances in which low rates are viewed as the most important selling point for homeowners, car buyers are often attracted by customer service incentives. According to Titan, low prices and interest rates are important, but in an industry that is notorious for pushy salesmen fixated on profit, an advertising campaign that highlights special customer service characteristics has proven to be very effective.
"An offer for a free oil change can make the difference in getting a customer to bite," said Braverman. "That's one of the biggest differences between the mortgage and auto industries. Car dealerships take a slightly different approach - there's a little more room to be creative. Ultimately, though, it's about the data. It's about getting the mail into the right hands. And as bad as the economy has been, people are still buying cars. We've definitely proved that."
ABOUT TITAN LIST & MAILING SERVICES, INC.
Titan List & Mailing Services is a full service direct marketing agency specializing in direct mail, printing, data lists (mail or phone lists), graphic / web design, and internet marketing / SEO. The company has been in business since 1998, and has a spotless track record and an A+ BBB rating. Titan's team of highly qualified individuals has experience in marketing trends that fit your business. Unlike other agencies that outsource their work, Titan List handles your entire campaign in-house - Data Lists, Design, Printing, Mailing, and Postage - All under one roof
For more information please call or visit:
http://www.TitanLists.com | 800.544.8060