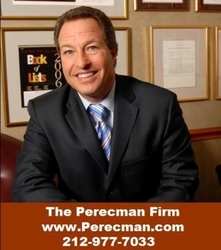 Prior results do not guarantee a similar outcome.
New York, NY (PRWEB) September 4, 2009
A new study reported by the New York Post, shows that New York drivers routinely break traffic laws on the city streets with alarmingly high frequency. The report, released on August 25, 2009 and titled From Chaos to Compliance, is based primarily on field observations made at four intersections in Manhattan, Queens, and Brooklyn.
Even New York personal injury attorneys are stunned by the report that reveals auto accident statistics, indicating that motor vehicle operators commit approximately three potentially life-threatening traffic violations every minute at New York City intersections. This adds up to 157 violations per hour. As surprisingly, no police summonses were given for any of these incidents.
David Perecman, a New York personal injury attorney, says "Its hard for people who drive to understand that what we think are common everyday acts can cause injury."
In the course of the study, drivers disregarded traffic controls such as signals, signs, and roadway markings over 100 times an hour. Plus, drivers failed to yield right of way to pedestrians, cyclists, and other vehicles 24 times every hour in these busy intersections of the city of New York. Auto accident attorneys know that this latter crime is one of the leading causes of crashes in the city.
Strengthening enforcement of the violations -- which includes anything from illegal turns to unsafely passing cyclists -- could help the city earn a tremendous total of $478,645 annually, the report also states.
"The number one priority for police officers is fighting crime and these violations certainly count as crime in New York," auto accident attorney, Perecman, continued.
The four major intersections observed by members of Transportation Alternatives, the organization that conducted the study, were 96th and Broadway in Manhattan, 73rd Street and Roosevelt Avenue in Queens, Smith and Ninth streets, and Prospect Place and Carlton Avenue in Brooklyn.
To counteract the widespread traffic violations, the group recommends that the New York Police Department sends officers to the most infamous crash-prone and violation-prone locations based on auto accident statistics to monitor and understand the most dangerous driving behaviors in order to deploy future enforcement in an informed way.
As part of the poll, pedestrians at the four intersections were asked if they felt endangered by the traffic. The researchers found that 57 percent of the pedestrians said they did feel like they were in danger while walking in the area. Another 43 percent just avoided the certain intersections altogether because of their sense of danger.
"Given that more than 200 people die in traffic crashes every year in New York City alone, the police should be motivated do something about this fast," said Perecman who also recommends that the NYPD not wait for a New York personal injury attorney to file a case before doing so.
About David Perecman and The Perecman Firm, PLLC:
For the past 25 years, the New York personal injury attorneys, construction accident, auto accident and medical malpractice attorneys at The Perecman Firm, PLLC have championed all types of cases for personal injury accidents. David Perecman, founder of the Firm, is the past Secretary of the New York State Trial Lawyers Association (NYSTLA) and a chair of its Labor Law Committee. Mr. Perecman's achievements have brought him recognition as an Honoree in the National Law Journal's Hall of Fame, in New York Magazine's "The Best Lawyers in America" and The New York Times Magazine "New York Super Lawyers, Metro Edition".
The Firm has recovered millions of dollars for its clients. Among the more recent victories, Mr. Perecman won a $15 million verdict* for a construction accident, a $5.35 million dollar verdict** for an automobile accident, and a $40 million dollar structured settlement for medical malpractice.
*later settled while on appeal for $7.940 million
** later settled for $3.5 million
"Lawyer Advertising"
"Prior results do not guarantee a similar outcome."
###