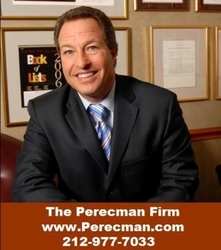 New York Super Lawyers, Metro Edition
New York, NY (PRWEB) September 14, 2009
According to New York personal injury attorney David Perecman, the pictures of the auto accident show a car smashed and burnt. Small wonder, then, Jacques Dorcely expresses surprise that he and his 10-year old son are alive today. On Monday night, his car flipped over three times before slamming into a guardrail after being struck from behind on the Long Island Expressway.
Dorcely only needed to be treated for minor injuries. However New York personal injury attorneys around Long Island are quick to note that Dorcely, a school psychologist with the New York City Department of Education, says he has worsening back pain and his son has aches. Dorcely also said that his car is not salvageable. In fact, according to Dorcely, he was intending to give the Mercedes convertible to his son someday for use as his first car. The crash also destroyed Dorcely's cell phone, glasses, and GPS navigation device.
All these issues will come into play if and when Dorcely chooses to hire a New York personal injury attorney. However, at this time, the evidence is incomplete as to which driver is at fault, so any thought as to how the situation will play out can only be considered a hypothesis.
"Speculation in not admissible whether you're in Manhattan or Long Island," personal injury attorney David Perecman explained.
According to Newsday Dorcely and his son were returning home from a birthday party for a friend a short time before midnight Monday when their 1999 Mercedes-Benz convertible was hit from behind near Exit 65.
Both Dorcely and his son were wearing their seat belts.
The driver who rear-ended them, Marissa Bernstein, escaped from her burning vehicle, a 1995 Mercedes-Benz with minor injuries, according to police.
No charges were filed in the incident. New York personal injury attorneys should determine by their investigation into this auto accident, which driver was more at fault via evidence that would show which driver was negligent and caused the crash. A New York personal injury attorney with expert know-how and trial abilities, like David Perecman, may be able to recover damages to help the injured cope with any medical expenses, lost wages, physical therapy, pain and suffering, car replacement, and other hardships related to the crash.
About David Perecman and The Perecman Firm, PLLC:
For the past 25 years, the New York personal injury attorneys, construction accident, auto accident and medical malpractice attorneys at The Perecman Firm, PLLC have championed all types of cases for personal injury accidents. David Perecman, founder of the Firm, is the past Secretary of the New York State Trial Lawyers Association (NYSTLA) and a chair of its Labor Law Committee. Mr. Perecman's achievements have brought him recognition as an Honoree in the National Law Journal's Hall of Fame, in New York Magazine's "The Best Lawyers in America" and The New York Times Magazine "New York Super Lawyers, Metro Edition".
The Firm has recovered millions of dollars for its clients. Among the more recent victories, Mr. Perecman won a $15 million verdict* for a construction accident, a $5.35 million dollar verdict** for an automobile accident, and a $40 million dollar structured settlement for medical malpractice.
*later settled while on appeal for $7.940 million
**later settled for $3.5 million
"Lawyer Advertising"
"Prior results do not guarantee a similar outcome."
###