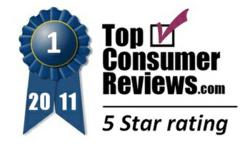 We're proud to receive TopConsumerReviews.com's highest rating... thank you for recognizing our hard work in providing excellent customer service.
Overland Park, KS (PRWEB) September 29, 2011
TopConsumerReviews.com recently awarded their highest five-star rating to Autohaus AZ, an industry leader in auto part dealers.
"We're proud to receive TopConsumerReviews.com's highest rating," said Ryan Finney, Director of Marketing at Autohaus AZ. "All of the auto parts and brands sold at Autohaus AZ are selected with our customers' needs for quality in mind. Autohaus AZ differentiates itself from the competition through its corporate-wide belief that customer service is a company-wide commitment that permeates every decision made at the company. We feel our personalized, caring approach toward our customers IS our competitive advantage. Thank you for recognizing our hard work in providing excellent customer service."
For home mechanics, buying parts for their broken car has traditionally been limited to overpriced dealer parts, one or two retail part stores, and even the junk yard. Given these limited options, the latest trend in buying auto parts involves shopping for them online, where prices and return policies can be quickly compared. Online auto parts stores allow the shopper to select from a variety of brands they can trust, often for prices less than what they can find locally.
"Autohaus AZ provides the most customer oriented and cost friendly online auto parts store available today," explained Brian Dolezal, of TopConsumerReviews.com. "The Autohaus AZ website offers excellent information regarding car repairs to assist in your project. Their low prices, easy to navigate website, and commitment to customer service has earned Autohaus AZ our highest rating."
To find out more about Autohaus AZ and other online Auto Parts stores, including reviews and comparison rankings, please visit the Auto Parts category of TopConsumerReviews.com at http://www.topconsumerreviews.com/auto-parts.
About AutohausAZ
AutohausAZ began in 1979 as a local European parts retailer in Phoenix, AZ (USA). Its now one of the largest parts warehouses on the Internet, stocking high quality OE parts for European and Asian cars and distributing to customers in over 115 countries. AutohausAZ has built its reputation on professional integrity, quality products and excellent customer service and has been recognized for its accomplishments with numerous prestigious awards over the past several years. For more information on AutohausAZ, please visit the press section of its website at http://www.AutohausAZ.com/html/autohausaz-press.html.
About TopConsumerReviews.com
TopConsumerReviews.com is a leading provider of independent reviews and rankings of hundreds of consumer products and services. From elliptical machines and halloween costumes, to jewelry and payday loans, TopConsumerReviews.com delivers in-depth product evaluations in order to make purchasing decisions easier.
###