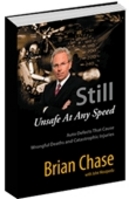 The lawsuit alleges that a 2003 Ford F250 Super Duty pick-up truck … failed to properly protect Lois Jean Bates during a June 2007 rollover crash that caused her to sustain severe and traumatic head and internal injuries, ultimately leading to her death.
Newport Beach, CA (Vocus) March 16, 2010
The California auto defects lawyers of BISNAR | CHASE (http://www.BestAttorney.com ) have filed a product liability wrongful death lawsuit against Ford Motor Company and Super Puente Hills Ford, located in the City of Industry, California, and Tuttle Click Ford, Inc. located in Irvine, California. The lawsuit alleges that a 2003 Ford F250 Super Duty pick-up truck manufactured and sold by the aforementioned defendants failed to properly protect Lois Jean Bates during a June 2007 rollover crash that caused her to sustain severe and traumatic head and internal injuries, ultimately leading to her death. The action was brought against the defendants by Lois's husband, Edward Bates, who was driving the vehicle at the time of the crash and who also sustained severe personal injuries, and her children Matthew Gismondi, Darlegne Hillenbrand and Jonathan Bates.
"We allege the 2003 Ford F250 Super Duty pick-up truck driven by Lois's husband was wrought with a substantial amount of defects," said Brian Chase of the BISNAR | CHASE Auto Products Liability Law Firm. "These defects, including an unsafe steering system, a weak roof design, a defective restraint system and a defective window system, caused Lois's tragic, untimely and unnecessary death. We contend the defendants knew about these defects and yet, acting in callous disregard, did nothing to warn Lois, or the public, about these defects."
2003 Ford F250 Super Duty Loses Control, Causes Injuries and Death
According to court records, on June 23, 2007, Edward Bates was the properly restrained driver of a 2003 Ford F250 Super Duty pick-up truck in which his wife, Lois, was the properly restrained right front seat passenger. Edward was towing a 2001 Road Runner 5th wheel behind the pick-up truck when the truck's alleged defective steering system started exhibiting oscillation, or an uncontrollable back-and-forth motion, causing the entire vehicle to shake severely, veer into oncoming traffic and roll over. During the rollover crash sequence, the F250's roof crushed inward due to its alleged defective nature, causing Edward to sustain severe and permanent injuries and causing Lois to sustain traumatic head and internal injuries. As the truck continued to roll, its seatbelt and restraint systems were compromised, causing Lois to be inadequately restrained. She survived for a short time after the crash, but died at the scene due to her catastrophic injuries prior to the arrival of emergency personnel.
Suit Claims Ford F250 Super Duty Wrought with Multiple Defects
The lawsuit claims the 2003 Ford F250 Edward was driving was wrought with multiple defects. First, the truck's unsafe steering system was prone to oscillation immediately following front or rear wheel impacts with things such as holes, bumps, pavement joints, frost heaves and rough roads. When oscillation occurs, drivers have little to no control over a vehicle's steering and movements.
The lawsuit further alleges that the truck's A and B pillars/windshield headers and roof rails were not fabricated with sufficient strength and structural integrity to withstand minimal roof crushing forces contributing to Lois's injuries. Finally, the suit claims the truck's restraint system and window system were also defective, allowing Lois to be partially unrestrained which also contributed to her fatal injuries.
Ford Allegedly Knew of F250 Defects
According to the lawsuit, Ford has received numerous complaints about the uncontrollable oscillation problem of its F250 Super Duty pick-up trucks, in addition to the ineffectiveness of its restraint systems in these same vehicles. And since 1970, the suit alleges the defendants have known that the use of unsupported, tempered glass in the side and rear windows of their vehicles was contributing to serious occupant ejection problems in side impact and rollover accidents, yet it did nothing to modify the design of its F250s to address and correct any of these problems.
"We allege Ford failed to fix the inherent problems of its Ford F250 Super Duty pick-up truck based solely on the fact that it did not want to incur the expense required to make these modifications, a fact that is both callous and reckless to the health and safety of the general motoring public," said Chase.
The action seeks special and economic damages for wrongful death, personal injuries, pain and suffering, emotional distress, medical expenses and funeral and burial expenses. The lawsuit is pending in the Superior Court of California, County of Orange, case# CIVVS 804173.
About BISNAR | CHASE
The BISNAR | CHASE law firm's Newport Beach personal injury attorneys represent people who have been very seriously injured or lost a family member due to an accident, defective product or negligence throughout California. The auto defects law firm has won a wide variety of auto defect cases against most of the major auto manufacturers, including Ford, General Motors, Toyota, Nissan and Chrysler. Get a complimentary copy of Mr. Chase's auto defect book, Still Unsafe at Any Speed: Auto Defects that Cause Wrongful Deaths and Catastrophic Injuries. For more information, visit http://www.ProductDefectNewsandAdviceBlog.com.
###