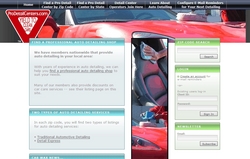 a clean car rides better.
Denver, CO (PRWEB) June 24, 2008
In an effort to provide consumers with an easy way to find Auto Detailing Professionals in their area, ProAutoDetailing.com launched a web site to allow automobile owners to search by zip code or search by state for a local Detail Center to keep their car in tip-top condition.
The potential customer visits the web site, types in their zip code, and instantly results are returned for the ProAutoDetailing.com member in their area. With over ten billion internet searches performed monthly and the decline in paper telephone directory queries, this approach will help build business for Auto Detailing shops that will have exclusive membership. Exclusive means there are only two detail centers per area admitted: one Traditional Auto Detail Center and one Detail Express Center. The concept is to team up these Detail Shops, which will allow the web site to have more power to present in a prominent position on search engines.
In addition, the web site provides customers with an option to set up email reminders for their next desired auto detailing. The goal here it to help customers maintain the highest possible value of their vehicle, which helps the resale value and maintains the beauty of the vehicle. To achieve this, Professional Detail Centers feature many premium options for car detailing, ranging from six-month paint protection, one year, and two-year protection, from many different manufactures such as Blue Coral®, Simoniz®, Turtle Wax® and Meguiar's®, just to name a few. Skilled detailing technicians apply these products by hand or with an orbital to buff the product into the paint.
This fall, ProAutoDetailing.com plans to launch a toll-free number, providing functionality for customers to call, enter their zip code, and be immediately connected to the Auto Detailing member in their area. This will enable customers to ask specific questions or schedule appointments.
Finally, consumers can sign up for newsletters, so they can stay informed and reminded to care for one of their largest investments. Guest writers from car care companies are welcomed to submit articles for distribution in the newsletter.
For additional information on ProAutoDetailing.com, teaming up Detail Centers to have more power to present in a prominent position on search engines, and make it easy for potential customers to find an Auto Detailing Professional near them, contact ProAutoDetailing.com founder and creator Jason Milen or visit the web site.
ProAutoDetailing.com web site founder and creator Jason Milen is no stranger to the car care industry. He has been involved in the car wash and detailing business with his family since 1983 at Jax Kar Wash & Detail Center, which was established in Detroit in 1953 by his grandfather, Jack Milen. Jason also runs an I.T. firm that specializes in databases, websites and search engine optimization for the car care industry, and can be contacted through the website, http://www.ProAutoDetailing.com. He says that he keeps a clean car, because "a clean car rides better."
###