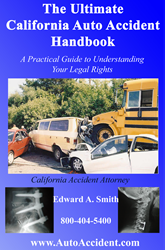 'It's absolutely vital consumers understand the rules and the process because once one resolves a claim, that's final! Knowledge is power. Empower yourself and the chances of being taken advantage of are far smaller.'
Sacramento, CA (PRWEB) April 26, 2013
The Law Offices of Edward A. Smith announces the publication in Kindle form of the already widely distributed book 'The Ultimate California Auto Accident Handbook'.
The most recently published studies from the Centers for Disease Control found that motor vehicle collisions continue to be one of the leading causes of death in the United States. Fortunately, most collisions do not result in fatality. Nonetheless, this same report indicates that on average more than 2.3 million adult drivers and passengers in this country sought medical attention on an emergency basis as a result of injuries sustained in motor vehicle collisions.
Fatalities and injuries can wreak havoc on the victims' family and friends. Besides an emotional toll, the aftermath of a collision may also result in either the loss of a wage earner or loss of employment. For many families even the forfeiture of a few hours of pay can impact a families ability to make ends meet at the end of the month.
Complicating consumers lives is the loss of transport to school and work when a vehicle becomes inoperable after the crash. Dealing with these changes and losses can be difficult. Knowing how to process a claim can be overwhelming.
Therefore, long-time personal injury lawyer, Edward A. Smith, recommends people understand the process of presenting a claim prior to tragedy striking. He states. 'It's absolutely vital consumers understand the rules and the process because once one resolves a claim, that's final! Knowledge is power. Empower yourself and the chances of being taken advantage of are far smaller.'
Edward A. Smith has been a trial lawyer since 1982, has a coveted Avvo rating of 10.0, has successfully resolved thousands of California automobile accident cases, and provides free case evaluation for those who have suffered injuries in these types of collisions. Further information and resources are available at no cost and are published on http://www.AutoAccident.com. This book is available in standard form and as a Kindle download through Amazon.com. It will be availabe as a Kindle download at no charge through April 30, 2013.