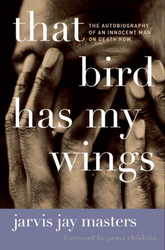 Masters' words and stories burn with the flames of a heart-stopping honesty and compassion. They show how spiritual practice and meditation can change a life completely, and speak of the triumph of the human heard over even the deepest desperation of Death Row.
San Francisco, CA (PRWEB) October 16, 2009
"One cannot be neutral in situations of injustice, and in his memoir, That Bird Has My Wings, Jarvis Jay Masters exposes the complex problems of a system that has resulted in a disproportionate number of blacks in the U.S. prison system. His memoir is a plea for reform, for a common humanity, and I share his hope that this moving story will redouble our efforts to make sure that every child matters." - Archbishop Desmond Tutu
Jarvis Jay Masters is a spiritual man. His days are spent meditating, reflecting on his past mistakes and his hopes for the future. But instead of visiting a temple or a church, his religious practice takes place within a 4' x 9' prison cell on San Quentin's death row.
Masters' true story--painful, poignant, uplifting, and, at times, funny--is movingly told in That Bird Has My Wings (HarperOne; October 2009; Hardcover; $24.99; ISBN 9780061730450), which Barnes & Noble has selected for their Fall 2009 "Discover Great New Writers" program. Taking readers from the arms of his heroin-addicted mother to an abusive foster home, from boy's homes and bus shelters to the walls of San Quentin, he reveals how a bright boy turns to a life of crime, and how a penitent man renews his faith and finds hope amidst a hopeless situation.
Using a ballpoint pen filler, the only writing instrument available to him, Masters has written a haunting, powerful memoir that he hopes will lead to real change. Intended to serve as a cautionary tale for the abused and abandoned children in danger of following his path from foster homes to juvenile centers to prison, That Bird Has My Wings is also meant to inspire those government officials and social service professionals who are truly in a position to fix our broken system.
Jarvis Jay Masters spent years in foster care before he was sent to various juvenile detention facilities and, ultimately, San Quentin. While serving a sentence for armed robbery he was implicated in the death of a prison guard, and though he takes full responsibility for his past actions, Masters maintains his innocence in regards to the murder that landed him on death row. A growing movement of people are actively working within the legal system to free him, and the California State Supreme Court is currently investigating evidence that points to his innocence. While he awaits appeal, Masters has written numerous critically-acclaimed articles as well as the book Finding Freedom. In 1992 he won a PEN Award for his poem "Recipe for Prison Pruno."
Praise for That Bird Has My Wings,
A Fall 2009 Barnes & Noble "Discover Great New Writers" Selection
"The compassionate act of self-discovery captured in That Bird Has My Wings is one that will reach well beyond the confines of one cell, one act, or one person--and inspire many." -- San Francisco Chronicle
"It is a riveting story, told with tremendous heart, yet totally devoid of sentimentality. I know it will be an eye-opener for all who read it." -- Pema Chödrön, from the Foreword
"Born into an environment of crime, raised in a broken system of foster care and juvenile halls, Masters was set on a dangerous course which eventually brought him to San Quentin's death row. Somehow, within those walls, he demonstrates the divine grace he has received by the courageous way he now lives his daily life, by the kind acts he performs, and by the cautionary tale he shares within these pages." -- Sister Helen Prejean, author of Dead Man Walking
"Heartbreaking and harrowing, impossible to put down. Masters writes his journey from unthinkable violence to grace with honesty, poetry, and revelation. This book would be a miraculous accomplishment for any writer, even if it had not been written from inside San Quentin Prison. It captivates, instructs, and inspires as Masters chronicles his hellish childhood, accepts responsibility for the injuries he caused, and shows how enlightenment can occur even in a place as grim as death row. Masters writes, 'that bird has my wings,' but as this brave book attests, he has found his wings." -- David Sheff, author of Beautiful Boy
"African Americans are seven times more likely to go to jail than whites; youth of color represent two-thirds of our country's juvenile inmates. Jarvis Jay Masters' moving memoir provides an intimate portrait of this tragic inequality. It testifies to the need for better education, greater training, and increased opportunity to keep these forgotten youth from ending up in our nation's juvenile centers and prisons. Read this book!" -- Van Jones, founder of The Ella Baker Center for Human Rights & Green for All, and author of The Green Collar Economy
"All across America, boys are lost to trauma and deprivation. Few of them have given voice to their experience and the redemptive power of spirituality as has Jarvis Jay Masters. When faced with life in prison, each person must choose between living as a savage or as a monk. The choice Jarvis made speaks volumes about the human spirit." -- James Garbarino, Ph.D., author of Lost Boys: Why Our Sons turn Violent and What We Can Do About It
"Brave, heartbreaking, redemptive and wise. Jarvis Jay Masters has turned his life into remarkable good medicine." -- Jack Kornfield, author of A Path with Heart
"Masters' words and stories burn with the flames of a heart-stopping honesty and compassion. They show how spiritual practice and meditation can change a life completely, and speak of the triumph of the human heard over even the deepest desperation of Death Row." -- Sogyal Rinpoche, Author of The Tibetan Book of Living and Dying
"The book of Ecclesiastes tells us there is 'a time to every purpose under the heavens…' If so, Masters' purpose is clearly to survive and teach. His ability to emerge alive from a childhood of horror, depravity, degradation and debasement beggars the imagination. His ability to cling to a faint glimmer of hope even as torture is rained on his formative years is the stuff of heroes. His ability to recognize, subdue and transform the self-destructive drive such life-denying forces promote is a lesson for us all. His time is now. His book is a testament to the human spirit." -- Mike Farrell, chair of Death Penalty Focus and author of Just Call Me Mike: A Journey to Actor and Activist and From Mule to Man
"A gripping indictment of poverty and the foster-care system." -- Kirkus Reviews
"This brave account of a childhood ravaged by neglect, violence, and institutional indifference is remarkable for its utter lack of anger and bitterness…(Masters') ultimate message of hope and reconciliation is moving and inspiring. Highly recommended." -- Library Journal
"Masters' intelligent, incisive prose paints a compelling depiction of the horrors leading to his situation…(he) gives us much to think about." -- Booklist
"(A) polished tale…a frank, heartfelt rendering of a young life that should have mattered." -- Publishers Weekly
###