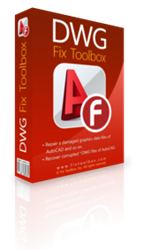 DWG Fix Toolbox quickly and easily fixes corrupted AutoCAD DWG files and enables users to preview their contents.
Sacramento, CA (PRWEB) February 18, 2013
Fix Toolbox, known for its line of highly efficient data recovery and repair solutions for a wide range of applications, releases DWG Fix Toolbox, a comprehensive AutoCAD fix tool capable of extracting drawings from damaged DWG files and saving them to new AutoCAD project files. The program's interface is based on the concept of a multi-step wizard, which considerably facilitates the use of the program and makes it a suitable choice for non-professionals.
This AutoCAD fix tool ( download it ) supports files created in all versions of AutoCAD, from 2000 through 2012. The software automatically determines the version of the damaged file and prompts the user for the version of the output file in case the user has several versions of AutoCAD installed. The program features a built-in content viewer that enables users to preview recoverable images prior to restoring them.
"DWG Fix Toolbox is one of our products that proved to be a great asset for professionals – engineers, designers, architects and many others," explains Boris Bobrov, a Product Manager at Fix Toolbox responsible for the program. "The key characteristic of the software is its outstanding support of all versions of AutoCAD files and excellent efficiency of recovering data from severely damaged files. We have further improved the file analysis algorithm and hope that our customers will appreciate the quality of recovery delivered by the program."
The demo version of DWG Fix Toolbox is available for download from the official website. All Fix Toolbox distributives are thoroughly tested with all major anti-virus packages and are 100% safe to download. All other software tools are represented at: http://www.fixtoolboxx.com/products.html