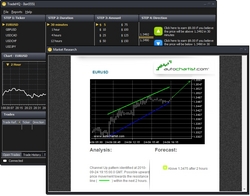 "[with HedgeQ] Autochartist is expanding its research to the rapidly growing binary options industry..." Ilan Azbel CEO Autochartist
New York, NY (PRWEB) September 27, 2010
Autochartist (http://www.autochartist.com) has launched a new binary options technical research report, custom-designed for recently launched broker, HedgeQ (http://www.hedgeq.com). Unlike traditional technical analysis reports, this new report provides binary options traders with research that emphasizes the time aspects of technical analysis that is critical to successfully trading binary options.
The research is available to all Live and Demo account holders through HedgeQ's trading platform.
"Through our partnership with HedgeQ, Autochartist is expanding its research to the rapidly growing binary options industry. We are delighted to start this project with HedgeQ, which we believe is offering one of the most innovative binary options platforms in the market." says Autochartist CEO Ilan Azbel.
Filip Ruscic, CEO of HedgeQ comments: "Our aim has always been to make our traders trading experience as simple and rewarding as possible. Autochartist research is the perfect complement to our product, offering our clients a quick and effective means to finding trading opportunities".
###