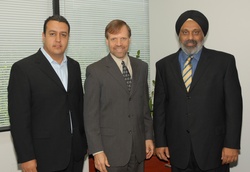 Under Ken Paul's guidance, KETIV became a respected Autodesk reseller, built on the values of technical expertise and customer satisfaction
FULLERTON, Calif. (PRWEB) September 7, 2007
Kanwar Anand has assumed the role of president and chief executive officer, and Anthony Rodriguez is now vice president, focusing on business development. Prior to the ownership transition, both were employees of the company.
According to Bill Griffin, Autodesk's vice president of North America channel sales, "KETIV Technologies has been a trusted Autodesk channel partner for two decades and has actively supported Autodesk's vision of 3D model-based design adoption among CAD software users in the civil and mechanical engineering communities. We look forward to working with KETIV's new leadership to provide our customers with the most complete 2D and 3D solutions for the AEC and manufacturing industries."
"Under Ken Paul's guidance, KETIV became a respected Autodesk reseller, built on the values of technical expertise and customer satisfaction," stated Anand. "As Anthony and I take KETIV to the next level, we will preserve KETIV's commitment to these values. Our priorities include strong customer relationships; proactive, comprehensive services; and expanded geographic coverage."
"We'll continue to provide our customers the leading engineering design technologies," said Rodriguez. "Finding the best solution for each customer's business needs remains our top priority. Our customer-centric style will grow in importance as 3D design processes, digital prototyping and other trends bring greater complexity to our industry."
"Kanwar and Anthony have been an integral part of KETIV's growth through the years," stated Paul. "It was a logical decision that they would take over direction of the company. I am convinced that their leadership will be a welcome next phase for both our staff and our clients." Ken Paul will manage KETIV's business systems development and remain an important part of the civil engineering team.
Biographical Summary
Ken Paul founded KETIV Technologies of California. His business philosophy centered on customer satisfaction and high-quality technical support. Kanwar Anand, who has a master's degree in mechanical engineering from Stony Brook University, joined him in 1988. Together they pioneered Autodesk engineering solutions in Southern California. Anthony Rodriguez joined KETIV in 2000, after five years as a KETIV customer. He has extensive design experience and has been able to use his industry expertise to become an advocate for engineering customers.
About KETIV Technologies
KETIV Technologies is a leading Autodesk solutions provider with 20 years' experience delivering CAD software and services in the Southwest United States. KETIV's team of industry experts increase the profitability of engineering services companies by proactively engaging with them to identify their business issues and deliver relevant solutions. KETIV serves the civil and mechanical engineering industries. For more information, visit http://www.ketivtech.com.
About Autodesk
Autodesk, Inc. is the world leader in 2D and 3D design software for the manufacturing, construction and media and entertainment markets. Since its introduction of AutoCAD software in 1982, Autodesk has developed the broadest portfolio of state-of-the-art digital prototyping solutions to help customers experience their ideas before they are built. For additional information about Autodesk, visit http://www.autodesk.com.
Autodesk is a registered trademark of Autodesk, Inc., in the USA and/or other countries. All other brand names, product names or trademarks belong to their respective holders. Autodesk is not responsible for typographical or graphical errors that may appear in this document.
(C) 2007 KETIV Technologies of California, Inc. All rights reserved.