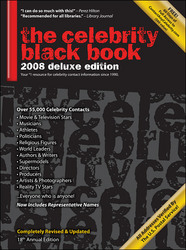 Autograph collecting as a hobby is stronger than ever due to our culture's current obsession with celebrities
Hollywood, CA (PRWEB) January 8, 2008
January is National Hobby Month, and the hobby of autograph collecting is stronger than ever due to our culture's obsession with celebrities. However, traditional fan mail has decreased due to celebrities on MySpace and an Internet generation unfamiliar with hand-writing and mailing letters.
"Autograph collecting as a hobby is stronger than ever due to our culture's current obsession with celebrities," says ContactAnyCelebrity.com's Jordan McAuley, author of the new Celebrity Black Book 2008: Over 55,000 Accurate Celebrity Addresses, the most popular directory of celebrity addresses among autograph collectors.
"People want to feel close to their favorite stars, which is why celebrity news magazines like Us Weekly and sites like Perez Hilton are so popular," says McAuley. "Autographs are an extension of that."
However, the landscape of fan mail has changed in recent years. Jordan says, "Fan mail used to be how celebrities could gauge how popular they were at any given moment. The more fan mail they received, the more popular they were. Today, however, it's by how many weeks they stay in the tabloids, how many MySpace friends they have, and how many blogs they appear on."
Celebrities don't receive as much postal fan mail as they used to because today's fans -- especially younger ones -- message their favorite stars on MySpace and comment on their blogs instead of writing and mailing traditional letters. "Many celebrities now feel that if a fan has taken the time to write, stamp, and (gasp!) mail a real letter, the least they can do is respond with an autographed photo," says McAuley.
The three main ways fans collect autographs are in person, by mail, and from autograph dealers like those who set up shop on eBay.
If you don't think you'll run into your favorite star in person and you don't want to purchase his or her autograph from a dealer, Jordan suggests to send a fan letter in the mail and politely request an autographed photo for your collection.
Here are Jordan's top 5 tips for collecting autographs by mail:
1) Send your letter in a large 9x12 envelope so it stands out.
2) Enclose a SASE (self-addressed stamped envelope) so the celebrity can easily send you back a signed photo.
3) Mention how the celebrity has positively affected your life.
4) Say how much you'd love for the celebrity to send you an autographed photo for your collection -- NOT so you can sell it!
5) Be patient -- the average reply time is 4 to 6 weeks, but it can take up to a year.
###