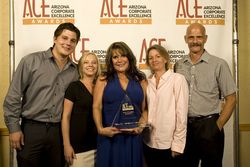 Attending the ACE Awards Banquet was amazing. It was very suspenseful waiting to hear the results and all of us were overwhelmed with excitement when AutohausAZ's name was announced
Phoenix, AZ (PRWEB) October 3, 2009
At its 15th annual awards event held September 17, 2009, the Arizona Corporate Excellence (ACE) Awards Committee named Phoenix-based AutohausAZ one of the Top 25 Fastest-Growing Companies in Arizona. The event recognizes the success of Arizona companies and their importance to the state's economy. AutohausAZ was selected for the 2009 ACE Award based on its revenue growth over the past two years, using both actual dollar growth and percentage-revenue growth. This formula puts both small and large companies on an even playing field.
The invitation-only event honored the 50 Largest Privately-Held Companies and the 25 Fastest-Growing Companies in Arizona. These firms generate combined revenues of over $15 billion per year and employ over 40,000 Arizonians and over 56,000 individuals worldwide.
"Attending the ACE Awards Banquet was amazing. It was very suspenseful waiting to hear the results and all of us were overwhelmed with excitement when AutohausAZ's name was announced," says Helen Crippes, Office Manager, who's been with AutohausAZ for more than 13 years.
For AutohausAZ, a leading worldwide online retailer of original-equipment automotive parts, news of the award came just after Inc. Magazine named them to the Inc. 5000 list of Fastest-Growing Companies in America. In addition, Inc. recognized AutohausAZ as one of the Top 100 Businesses in the Phoenix-Mesa-Scottsdale metro area and one of the Top 100 Retail Companies in America. This is the second consecutive year AutohausAZ has been named to these three lists.
About AutohausAZ:
AutohausAZ began in 1979 as a local European parts retailer in Phoenix, AZ (USA) and is now an international retailer with one of the largest parts warehouses on the web. The company selects and sells high-quality original equipment (OEM) parts for European and Japanese vehicles to customers in over 115 countries.
AutohausAZ specializes in German car parts (Audi, BMW, Mercedes Benz, Mini Cooper, Porsche, and Volkswagen) and also carries a wide selection of auto parts for Swedish (Saab, Volvo), British (LandRover, Jaguar) and Japanese automobiles (Acura, Honda, Infiniti, Lexus, Nissan and Toyota).
For more information on AutohausAZ, please visit the Company's Press Page at http://www.AutohausAZ.com/html/AutohausAZ-Press.html
# # #