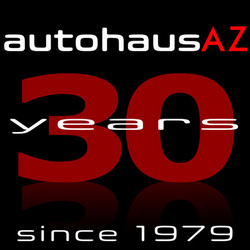 Back in 1998, if we couldn't find a way to increase sales without significant costs and lowered margins, AutohausAZ would've become just another statistic - another failed small company that fell victim to a larger competitor. Luckily, the Internet provided that opportunity for us and it's been an overwhelming success
Phoenix, AZ (PRWEB) October 28, 2009
AutohausAZ, a large Internet-based auto parts retailer distributing OEM parts worldwide for European and Asian cars, recently announced its 30th year celebration of continued success and growth. Over the past three decades, AutohausAZ has persevered, despite competitive pressures, an ownership change, several economic downturns, the credit crunch and all those other growing pains faced by small and medium-sized companies. AutohausAZ has achieved what few companies have been able to do in this day and age - long-term and sustainable success - through its unique focus on quality parts, discount pricing, fast & accurate shipping and superior customer service.
Since 1979, AutohausAZ has evolved from a local wholesaler providing European auto parts to Phoenix-based repair shops to a thriving Internet-based auto parts retailer, distributing auto parts in more than 115 countries. Its website, AutohausAZ.com, first launched in 1998 as a 5-page information site after a large competitor moved into town and sales started to be adversely affected.
"Back in 1998, if we couldn't find a way to increase sales without significant costs and lowered margins, AutohausAZ would've become just another statistic - another failed small company that fell victim to a larger competitor. Luckily, the Internet provided that opportunity for us and it's been an overwhelming success," said Carolyn Lefebvre, President/CEO of AutohausAZ.
In 2003, AutohausAZ built and launched its proprietary online auto parts catalog and changed its focus from local, wholesale customers to the global retail market. By 2005, AutohausAZ had gone from a local 250-customer market to hundreds of thousands of customers worldwide, with sales growth of 744% since the launch of AutohausAZ.com.
Even though AutohausAZ.com continues to experience tremendous growth, it has never sacrificed customer service. New and returning customers are greeted with a user-friendly website that offers informative car repair articles, intuitive parts searches, easy navigation, fast-loading pages, comprehensive product details (text and images), state-of-the-art security encryption for order and payment processing, complete customer notification and tracking systems and a maintenance section allowing customers to store repair records and set auto-reminders for future repairs.
AutohausAZ also expanded its physical location in 2008 due to its need for more space to ensure continued success. Now the AutohausAZ warehouse is more than double its original size, with expanded space for inspecting, packing and shipping orders. Office space was tripled with this expansion to provide more private offices and a more comfortable, productive work environment for everyone.
"This year is a major milestone for AutohausAZ as we celebrate our 30th year in business," said Carolyn Lefebvre. "Our thanks go out to all of you who've made our success possible. We've never forgotten the basics and the people who've contributed to our success along the way, whether they be valued customers, employees or suppliers. It's always been, and will always be, a team effort."
About AutohausAZ:
AutohausAZ began in 1979 as a local European parts retailer in Phoenix, AZ (USA) and is now an international retailer with one of the largest parts warehouses on the web. The company sources and sells high-quality original equipment (OEM) parts for European and Japanese vehicles to customers in over 115 countries. AutohausAZ specializes in German car parts (Audi, BMW, Mercedes Benz, Mini Cooper, Porsche, and Volkswagen) and also carries a wide selection of auto parts for Swedish (Saab, Volvo), British (LandRover, Jaguar) and Japanese automobiles (Acura, Honda, Infiniti, Lexus, Nissan and Toyota). For more information on AutohausAZ and its many milestones and achievements, please visit the Company's Press Page at http://www.AutohausAZ.com/html/AutohausAZ-Press.html
###