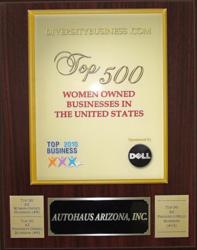 Although our customers may not be directly aware of the fact that AutohausAZ is owned by a woman, they are pleasantly surprised by AutohausAZ's distinctly different customer service, much of which stems from its female ownership and diverse workforce
Phoenix, AZ (PRWEB) March 25, 2010
In recognition of the entrepreneurial spirit that drives the United States economy, DiversityBusiness.com recently released its 10th annual listing of the nation's top diversity businesses, naming AutohausAZ as one of the top businesses in America. Businesses on the list contribute over $1.4 trillion in sales to the U.S. economy, challenging the long-held notion that diversity-owned businesses are small or insignificant.
AutohausAZ, a large Internet-based auto parts retailer distributing OEM parts worldwide, is recognized as one of the Top 500 businesses in the United States and Top 50 businesses in Arizona in the following categories; Privately-Held Businesses, Woman-Owned Businesses and Diversity-Owned Businesses. This is the third consecutive year AutohausAZ is recognized on this prestigious list with a total of thirteen awards.
In the traditionally male-dominated auto parts industry, AutohausAZ stands out. Not only is it one of the largest distributors of European and Asian car parts on the internet; it's also 100% woman-owned. And it's one out of 650,000 businesses in the United States that were invited to participate in the 10th annual Top Businesses in America survey.
"Although our customers may not be directly aware of the fact that AutohausAZ is owned by a woman, they are pleasantly surprised by AutohausAZ's distinctly different customer service, much of which stems from its female ownership and diverse workforce," said Ken Stromberg, Chief Knowledge Officer of AutohausAZ. "Everyone at AutohausAZ is treated as a close friend/family. The nurturing and empathetic attitude within the company extends outwards and gives customers the feeling, and rightly so, that we truly care about them and want to assist them. That's what AutohausAZ does better than any other company in our industry."
"These awards are an affirmation of our efforts to create a strong, dedicated and diverse workforce," said Carolyn Lefebvre, President/CEO. "Our belief in working together as a family to further the goals of the Company and those of each individual, affords us the employee loyalty which, in turn, helps build customer loyalty and this is what, ultimately, fuels our success."
For the past 10 years, DiversityBusiness.com has awarded its Top Diversity Businesses by highlighting top performing minority- and woman-owned businesses in the U.S. based on annual gross revenue and business profile. This elite list is coveted by the most successful companies in the U.S. and has become the most recognized and respected compilation of companies that truly differentiate themselves in the marketplace at a time when doing so has never been more important.
Businesses named on this year's Top Business List will be recognized at DiversityBusiness.com's 10th Annual National Business Awards Ceremony and Conference held April 27-29, 2010 at the Gaylord National Resort and Conference Center in Washington, D.C.
About AutohausAZ:
AutohausAZ began in 1979 as a local European parts retailer in Phoenix, AZ (USA) and is now an international retailer with one of the largest parts warehouses on the web. The company sources and sells high-quality original equipment (OEM) parts for European and Japanese vehicles to customers in over 115 countries. AutohausAZ specializes in German car parts (Audi, BMW, Mercedes Benz, Mini Cooper, Porsche, and Volkswagen) and also carries a wide selection of auto parts for Swedish (Saab, Volvo), British (LandRover, Jaguar) and Japanese automobiles (Acura, Honda, Infiniti, Lexus, Nissan and Toyota). For more information on AutohausAZ and its many milestones and achievements, please visit the Company's Press Page at http://www.AutohausAZ.com/html/AutohausAZ-Press.html
# # #