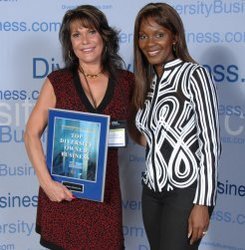 Phoenix, AZ (PRWEB) August 1, 2008
Autohaus Arizona, Inc. (AutohausAZ), a Phoenix-based company distributing OEM auto parts for European cars and Japanese cars worldwide, was recently recognized by DiversityBusiness.com as one of the Top Woman-Owned Businesses in the United States. The company was ranked 347th out of the 600,000 small businesses invited to participate in the 8th annual competition held at Disney World's BoardWalk Hotel in Orlando, Florida. AutohausAZ.com was also awarded honors within its home state of Arizona: 12th in Top Small Businesses, 8th in Top Diversity-Owned Businesses and 7th in Top Woman-Owned Businesses.
"We're thrilled with the honors bestowed upon AutohausAZ and are very proud of our diverse, loyal and productive team. Everyone is committed to a common goal of achievement and success both for the Company and for each individual because we all truly care about one another. That same caring, respectful, helpful attitude also permeates our approach to customer service and that's been one of the driving forces behind our success," said Carolyn Lefebvre, President/Owner of Autohaus Arizona Inc.
"Top quality OEM auto parts, combined with friendly and caring customer service, are critical components to building trust and loyalty with our auto parts customers. Customers want to know that you're there to answer their questions and provide solutions to their problems. Companies that can demonstrate that to their customers know how to build customer loyalty in the long term. And that's how you grow your company."
AutohausAZ.com and its fellow award honorees represent the nation's top multicultural earners and challenge the long-held notion that small and diversity-owned business is a small or insignificant part of our economy. In fact, according to DiversityBusiness.com, diversity-owned businesses contribute over $1.4 trillion in sales to the U.S. economy and are actively sought after by major corporations desiring to increase spending with this segment.
DiversityBusiness.com is the nation's leading multicultural organization linking small business and large organizational buyers to multicultural product and service suppliers. Its annual Top Business List is seen by over 15 million people and is used by major corporations and large buying organizations for finding new business partners.
About AutohausAZ.com:
Autohaus Arizona Inc. (formerly Autohaus Phoenix, Inc.), a 100% woman-owned Arizona corporation, began in 1979 as a local wholesale distributor of European auto parts in Phoenix. The Company launched its website in 1998 and today AutohausAZ.com distributes OEM European auto parts and Japanese auto parts to wholesale and retail customers worldwide. Specializing in German car parts (Audi, BMW, Mercedes Benz, Mini Cooper, Porsche, and Volkswagen), AutohausAZ.com also carries a wide selection of auto parts for Swedish (Saab, Volvo), British (LandRover, Jaguar) and Japanese/Asian cars (Acura, Honda, Infiniti, Lexus, Nissan and Toyota, to name just a few). For more information on Autohaus Arizona, please visit our website at http://www.AutohausAZ.com.
###