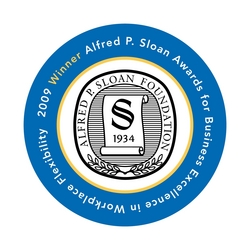 Phoenix, AZ (PRWEB) July 17, 2009
Autohaus Arizona, Inc. (AutohausAZ.com) again gained national recognition June 11, 2009, when it received the 2009 Alfred P. Sloan Award for Business Excellence in Workplace Flexibility as part of the Chandler Chamber of Commerce's management of When Work Works, an initiative of Families and Work Institute, the Institute for a Competitive Workforce, an affiliate of the U.S. Chamber of Commerce, and the Twiga Foundation. This prestigious award recognizes organizations that continually strive to find new ways to make work "work" in today's challenging economy and successfully use workplace flexibility to meet both employer and employee goals.
Evaluation for this award is a rigorous two-step process - first comparing the employer's extensive questionnaire to nationally representative data from Families and Work Institute's National Study of Employers, and then corroborating employer responses through employee surveys. Flexibility was defined as including:

Flex-Time and Place: when and/or where employees do their job (i.e., flex-time, telecommuting, compressed workweeks).
Choices in Managing Time: employees have some choice about when they work (scheduling hours, overtime, breaks) and how their time at work is spent.
Reduced Time: availability of part-time or part-year schedules.
Caregiving Leaves: ability to schedule leaves for birth, adoption or caregiving to ill family members.
Time Off: scheduled absences (i.e., vacations, education/training), sick days, planned sabbaticals and informal time off for unanticipated/unplanned events.
Flex Careers: provisions enabling employees to enter, exit, re-enter the workforce and increase/decrease workload.
Culture of Flexibility: supervisors are knowledgeable about flexible practices and promote/communicate them effectively.
"AutohausAZ has used technology extensively as a means for handling growth, reducing errors, increasing productivity, making employees' jobs more interesting and fun, reducing training time and, in general, making the workplace a flexible, interesting place to work," explains Ryan Finney, VP Operations/COO, when questioned how flexibility became an integral part of AutohausAZ's culture.
"Incorporating technology in all areas has allowed us to use flexibility as a business strategy for recruiting, developing and retaining employees since it makes many positions less location- and time-sensitive. Moreover, it gives employees the ability to be more creative in their jobs since most of the menial tasks have been effectively automated."
In addition to flexibility in working locations and hours, AutohausAZ is flexible and creative in assisting employees in all areas of their lives, including financial assistance, personal growth and development, respect for family and school obligations, and any other area affecting an employee's well-being.
Firmly believing that a happy, financially secure employee is more productive and dedicated to the company's customers and the company's overall success, AutohausAZ has remained committed to providing excellent compensation, company-paid insurances, annual raises, liberal paid vacations, 401K profit-sharing and as much flexibility as possible.
The company has also been creative in developing special motivational incentives like monthly gas cards (to promote carpooling and attendance), paid Friday off awarded monthly (to promote error-reduction), regular company-catered luncheons (to educate employees on corporate results), sponsorship of sports teams (to promote friendship among employees outside of work), and more.
"Everyone at AutohausAZ is thought of as part of the family. The workplace is casual but extremely productive. We've always believed that flexibility allows employees to accomplish greater things while still being able to balance their personal lives. A happy and financially secure employee is more productive and dedicated to the company's customers and to the company's overall success because they know customer satisfaction and corporate success equates into personal success and achievement," says Carolyn Lefebvre, AutohausAZ President/CEO.
AutohausAZ's beliefs in flexibility being positive for everyone are supported by findings of Alfred P. Sloan Foundation's National Study of Employers (NSE). NSE provides ongoing measurements of employer benefits, policies and practices. It's the only study of employers in the U.S. that comprehensively assesses a broad array of programs, policies and benefits for a nationally representative group of employers.
According to the NSE, employees in flexible workplaces are more likely than other workers to have:

Greater motivation/involvement in their jobs (productivity)
Higher levels of job satisfaction
Stronger intentions to stay (loyalty)
Less negative and stressful spillover from job to home and from home to job
Better mental health
These findings reveal that both employers and employees benefit from effective and flexible workplaces. Employees benefit from having higher quality jobs and more supportive workplaces that are less likely to negatively affect their personal lives, while employers benefit from having more motivated and productive employees, higher retention and lower health care costs.
Employers like AutohausAZ are motivated to provide flexibility for a combination of reasons. The most prevalent, according to NSE's study, is employee retention (37%). Helping employees balance/manage work and family life was second (18%), with recruiting employees and improving morale tied at third (9%). Thus, companies use flexibility as a tool to recruit and keep good employees and improve the morale and loyalty of those employees. This, in turn, translates into a more effective and productive working environment.
About AutohausAZ:
Established in 1979 as Autohaus Phoenix, a local wholesale distributor, today AutohausAZ.com is one of the leading auto parts companies on the Internet, marketing high-quality OEM parts for European and Japanese automobiles globally. It focuses on providing superior customer service, top quality products, discount prices and useful auto repair information to its customers in more than 115 countries. Specializing in German car parts (Audi, BMW, Mercedes Benz, Mini Cooper, Porsche, and Volkswagen), AutohausAZ.com also carries a wide selection of auto parts for Swedish (Saab, Volvo), British (LandRover, Jaguar) and Japanese/Asian cars (Acura, Honda, Infiniti, Lexus, Nissan and Toyota, etc.). For more information on AutohausAZ, please visit the press section of our website at http://www.AutohausAZ.com/html/autohausaz-press.html.
###