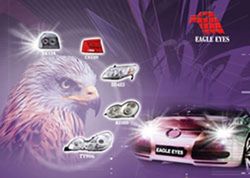 Providing the best quality products and state of art design is our competitive edge in the facing counterfeit auto parts market. It also gives us more credibility in front of customers.
(PRWEB) September 13, 2007
According to a leading market report for 2007 published by China Credit Information Service Company (CCIS) in Taiwan, Congratulations are in order to Eagle Eyes for being ranked in Top10 Taiwanese Highest Potential Enterprises. Mr. Lee said, "Providing the best quality products and state of art design is our competitive edge in the facing counterfeit auto parts market. It also gives us more credibility in front of customers."
Having worked with the second largest nationwide provider of aftermarket collision replacement products – the LKQ Corporation -- Eagle Eyes has been well known as a outstanding auto light designer of ODM manufacturing and aftermarket products supply worldwide.
Eagle Eyes started on auto head lamp production and exported its first lamps to Japan in 1979. It expanded business to the United States after obtaining their first U.S.A DOT certificate in 1992. Eagle Eye has marketed in over fifty countries in America, Middle East, and Southeast Asia through overseas agents and distributors. Its products, which all satisfy worldwide ODM applicants of famous auto companies include Benz Head Lamp, Sedan Head Lamp, Peugeot Rear Lamps, Lexus Head Lamps and Volkswagen Led Rear Lamp.
"To offer the most integrated and prompt service to our customers, we provide from mold design, plastic injection process, assembly, quality inspection, to delivering," Eagle Eyes Sales Manager Chas Lee said.
In order to carry out mass production rapidly, Eagle Eyes factories were enlarged in Taiwan and achieved the ISO 9001:2000 Quality certification. These factories are well-equipped with advanced CNC-machines, plastic injection machine plants, vacuum chrome facilities, hot plate test room, 4-D robot glue machine, photometric machines on assembly line and multiple shot injections. All products have passed British V.C.A.E-MARK, German TUV RHEINLAND E-MARK, CAPA product certificates.
Effectively to enhance night visibility and safety, Eagle Eyes's HID lighting delivers high light output over 3200 lumen and runs more than 2,500 hours, its range of color temperature from 3,000k to 12,000K depends on customers' requests.
As emerging market trend in LED auto lamps, Eagle Eyes has formed an LED research department to concentrate on technology development. It effectively not only strengthens LED light durability, safety and luminosity, but improves cooling systems.
To provide the best auto lights, Eagle Eyes has also equipped with a photometric laboratory for quality inspections, such as distributing luminosity measurement system tests with a rotary mirror, luminous flux of vehicle lamp test, and a reflectivity test. Moreover, its environment test enhances fogging, water, dust and salt spray protection to ensure products are functioning well under changeable environments.
Compared to auto OEM manufacturers, Eagle Eyes focuses more on lighting design to represent customers' own style and tastes of fashion. Eagle Eyes also serves as a manufacturer of performance and tuning parts. It aims to bring customers great pleasure by letting them drive with more creativity. For example, Eagle Eyes can change the auto light design of the Mitsubishi Lancer series to the Lexus IS 2000 series, in accordance with relevant regulations. It effectively gives an automobile an image transformation. In addition, it serves automobile club better, it can also make its unique identification on automobiles by letting them adapt to different light designs.
Awards
German RW-TUV QS 9000 international quality certificate.
British V.C.A. E-MARK factory and product certificate.
U.S.A. DOT certificate.
German TUV RHEINLAND E-MARK factory and product certificate
U.S.A. Certified Automotive Parts Association (CAPA).
###