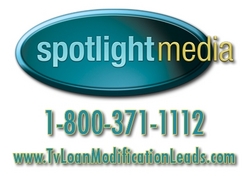 Spotlight Media is dedicated to putting customers in need with reputable Auto Loan Modification firms. Consumers who can no longer afford their monthly car payment and can't even think of the alternative (REPO) need Auto Loan Modification assistance.
Miami, FL (PRWEB) March 16, 2010
Spotlight Media has assembled a New National TV campaign to generate Auto Loan Modification Leads to help consumers team up with reputable Auto Loan Modification companies.
Allowing the consumers to get back on track with a monthly payment they can handle is Top Priority. Consumers are saving up to 50% every month on their car payments.
Spotlight Media is looking for a few select Reputable Auto Loan Modification Companies to take Live Calls from our TV Auto Loan Modification Leads. Companies may purchase Live TV calls by reaching Spotlight Media directly.
Companies Interested in receiving these leads can call 1-800-371-1112 now and become part of our premier rotation for the Elite TV Auto Loan Modification Leads.
With the amazing influence of television Spotlight Media is able to generate Auto Loan Modification Companies exclusive, eager and motivated consumers at a fixed cost per call . This provides the opportunity for the reputable Auto Loan Modification companies to help as many consumers as possible and not have to worry about media management.
Reputable Auto Loan Modification companies have the opportunity to take these calls. These live television calls are transferred directly to the Auto Loan Modification company so they can help as many people as possible as soon as the calls come in.
With a record number of repossessions that have already taken place in 2010 people want and need help to keep their vehicle and lower their monthly payment. Consumers can and will find help through this Nationally Advertised Commercial.
Spotlight Media prides itself on having a stellar reputation for honesty and credibility. With over 45 years of combined experience in TV commercial production and media placement Spotlight Media knows the specifically targeted demographics needed to assist the consumer and match them with a reputable Auto Loan Modification companies. Spotlight Media Also work with reputable companies for Debt Leads, Loan Modification Leads, and coming soon Live Chat Debt Internet Leads
Reputable Auto Loan Modification company in need of Live TV Calls and want to experience the excitement of these calls and helping as many consumers as possible please contact:
Kathy Alarcon
Vice President
Spotlight Media
1-800-371-1112
###