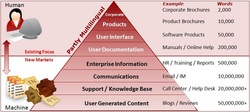 Language Studio™ Enterprise is priced as low as a fraction of a cent per word as volumes increase
Singapore (PRWEB) October 12, 2009
Asia Online today released Language Studio™ Enterprise, its second-generation hybrid Statistical Machine Translation (SMT) platform for enterprises and Language Service Providers (LSPs) that have large-scale translation requirements and a need to control the costs associated with high-volume globalization and localization projects. Language Studio™ Enterprise allows LSPs and organizations to take on translation initiatives that previously would have been uneconomical from a time and cost perspective.
In addition to hosted and on-premises versions, Language Studio™ Enterprise is available as Software as a Service - meaning that LSPs and enterprises can immediately begin accessing all features on demand via secure web services without the need to procure and run an expensive server infrastructure or maintain dedicated computers.
Several hundred language pairs are supported, including all 23 official European Union languages and a range of Asian languages such as Thai, Chinese and Japanese. Other Asian languages are being released in the near future.
Language Studio™ Enterprise builds upon Asia Online's established technologies and adds a range of new features, including:

Cloud-based scalability: Clients' custom translation engines can be loaded across many translation servers on an as needed basis to deliver results in record time.
Support for multiple source document formats: HTML, XML, TXT, DOC, DOCX, TMX and XLIFF.
Support for custom engines: LSPs and enterprises may build custom translation engines for specific customers or specialist industries on top of the existing baseline engines. Custom engines deliver significantly higher quality translations than generalized engines. With enhancements and optimizations in the Language Studio™ Suite, LSPs are able to create custom engines with as little as 20,000 segments of learning data.
Multiple domain support: Domains such as News & Commentary, Technology & High-Tech and Medical & Healthcare may be selected to ensure the highest possible quality and accuracy of translations. Having ready to use foundation domain data jump-starts the creation of custom domains and engines.
Kirti Vashee, VP Enterprise Translation Sales at Asia Online says, "Profit margins in the language services industry are low while competition is intense, even cut throat at times. Productivity gains when post-editing high-quality output from Language Studio™ Enterprise can exceed 300%. Professional translators and post editors have been seen to increase their translation throughput to 12,000 words per day or more in specialized industries. This dramatic rise in productivity allows them to compete more effectively while improving their margins."
Language Studio™ Opens New Markets
Language Studio™ Enterprise not only lowers costs and increases productivity, but also greatly extends the reach of translation services for LSPs into vast new markets. Common Sense Advisory, a leading translation market research firm, claims that just 0.5% of the information that could be translated is being translated. This untranslated content currently includes patents, self-service knowledge bases, community support forums, academic research, research reports, corporate information and client communications. Because these valuable sources of information often contain many millions of words, they are only partially localized or not localized at all due to the costs and time required. By utilizing Language Studio™ Enterprise to rapidly generate initial translations and then using Asia Online's workflow and post editing tools to refine and manage quality, LSPs can take on much larger and inherently more complex projects that were previously infeasible.
"Language Studio™ Enterprise is priced as low as a fraction of a cent per word as volumes increase," says Mr. Vashee. "This changes the financial equation, allowing LSPs to reap the benefits of a large-scale, industrial-strength machine translation platform, without the cost outlay that has been associated with creating custom translation engines previously. This means LSPs can take on new business in markets never before addressed. It allows LSPs to focus on and add value in the emerging 'massive volume - good enough quality' market."
Options for Obtaining Language Studio™ Enterprise
Language Studio™ Enterprise is available immediately in the following versions:

Software as a Service: All technology is run and managed by Asia Online in an on-demand environment, with clients running their translation tasks via the web. This is the most economical and flexible model for LSPs and enterprises with a broad range of translation needs.
Hosted: The client has a dedicated set of servers that are run and managed by Asia Online. This solution is ideal for organizations whose clients demand a dedicated translation environment.
On-Premises: Asia Online installs dedicated server software at a site of the client's choosing and provides training and support to allow the client to run and manage the software. This option is ideal for organizations with high-security requirements.
Language Studio™ Enterprise also has a flexible API, allowing for tight integration to existing workflow environments and custom applications.
More information on the Language Studio™ Suite is available at http://www.languagestudio.com.
Asia Online Pte Ltd is an International web portal and machine translation technology company.
Asia Online's translation services are targeted towards mass translators and the global language services industry. Asia Online's primary focus is to support the delivery of huge amounts of content in local languages. In doing so it has created a core technological infrastructure that enables massive translation projects to be undertaken. Asia Online is working with language service providers and publishers with its unique infrastructure to create technology capable of producing the best machine translation quality that is second to none.
Formed in 2006, Asia Online is a privately owned company backed by individual investors and institutional venture capital. Its corporate headquarters are in Singapore, and it has significant operations in Bangkok, Thailand, with R&D activities throughout Asia and expanding sales operations in Europe and North America.
###