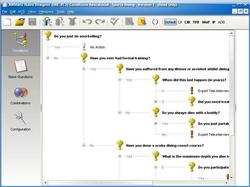 This release highlights Allfinanz's constant innovation on our clients' behalf
Dublin, Ireland (PRWEB) March 28, 2010
Allfinanz, the leading provider of automated underwriting software solutions to the global life insurance industry, today announced a new release for its Underwriting Rules Engine and Rules Designer products. This latest release is available for sale immediately in three languages.
Already recognized as the world's most widely used and trusted life insurance automated underwriting software solution, the Allfinanz Underwriting Rules Engine v4.4 extends the company's leadership position through new advanced rules management features, and enhanced ability for flexible questioning. These new features are designed to increase STP rates, further reducing costs and policy issue times for life insurance carriers. Additionally, a range of infrastructure improvements will reduce cost of ownership and ease of integration for life insurance carriers.
"This release highlights Allfinanz's constant innovation on our clients' behalf" says Paul Donnelly, Director of Product Management and Marketing at Allfinanz, "The Allfinanz Underwriting Rules Engine v4.4 creates sustained competitive advantage in today's life insurance industry. Our advanced life-specific product adds value in a range of enterprise functions and offers the potential for dramatic increases in life carrier profitability."
The positive impacts of this new release will be realized throughout the enterprise. The Allfinanz Underwriting Rules Engine v4.4:

provides a cost-effective way to target the middle market
increases straight-through-processing (STP) rates
increases insurance agent and independent broker productivity
focuses underwriters on complex high value cases
capitalizes on cost efficiencies of doing more business online
helps identify any rules or business process gaps
empowers underwriters to make rule changes
reduces IT costs
reduces business risk by identifying anti-selection risks
provides valuable management reporting for enhanced decision making
For over twenty years, Allfinanz has paved the way in delivering technology solutions to the life insurance industry. The company's new business and underwriting process automation software solutions helps make straight through processing (STP) and simplified issue a reality for many leading insurers and banks around the world.
About Allfinanz
Founded in 1987, Allfinanz is the market leader in providing new business processing and underwriting automation software to the life insurance industry. By electronically capturing application details and automating the underwriting process, Allfinanz solutions deliver straight through processing (STP) for life insurers, to lower costs and drive profitability. Allfinanz has enabled STP and "instant issue" at insurers and banks worldwide, who are now able to approve up to 80% of new applications at the point of sale for a variety of life insurance products across a range of distribution channels (including intermediary, call centre, bancassurance, agent and direct channels). This has been accompanied by a significant reduction in new business acquisition costs; by up to 85% in some cases.
Allfinanz was acquired as a wholly owned subsidiary by Munich Re in November 2007, and operates as a separate software company within Munich Re. Allfinanz is headquartered in Dublin, Ireland with offices in Australia, Japan, Hong Kong, the UK and Germany. Customers include HSBC, Prudential, Tower, SBI AXA, Asteron, The Hartford and Metropolitan Life. Learn more at http://www.allfinanz.com
###