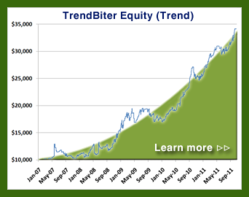 TrendBiter seeks out excellent high probability trends driven by the TSDI® indicator to accurately enter and manage profitable positions.
Toronto, Canada (PRWEB) October 14, 2011
TradingSystems.ca releases a review of TrendBiter: TrendBiter® is a new solution for patient investors who want to profit from trading the Forex market but avoid the daily grind of chasing down PIPS with the help of a fully automated forex trading solution without having to become an MQL or JForex programmer.
TrendBiter® profits by using a proprietary TSDI® (Trend Strength Discovery Index) indicator, developed by Dr. Trent Soyuz, that takes small "bites" of profit out of trends in the medium range with an exceptionally high accuracy rate.
The strategy has been designed for the NinjaTrader platform such that the user needs absolutely no experience or knowledge of Forex trading - a "Plug & Play" concept.
Other leading platforms are also supported.
TrendBiter launches on October 24, 2011.
TrendBiter® has been extensively tested on all the major currency pairs and has been profitable each and every year.
About TradingSystems.ca:
Recognized as an expert at implementing complex automated trading strategies, Doron Whitman founded TradingSystems.ca as a commercial venture as well as a vision to grow an online community of automated systems traders. His unique vision of a community oriented business has turned into one of the largest online channels for systems traders worldwide.
Whitman and his team at TradingSystems.ca now offer their expertise to over 25,000 followers via their Automated Trading Strategies LinkedIn group and encourage market modelers to join their ever growing community of traders.
###