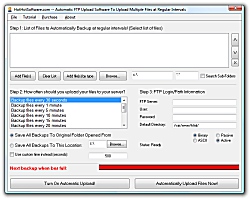 Met all of my expectations. I highly recommend this application.
Los Angeles, CA (PRWEB) February 18, 2013
This application developed by HotHotSoftware includes all the features that one would expect from an automatic FTP upload software.
For webmasters and other professional computer users, this automatic FTP upload software will sit conveniently in the system tray at the bottom right hand corner of a users screen. Users will then be able to access the software quickly and easily. The following are are just some of the features that users will find beneficial:
This new software allows an individual to choose how often the uploads occur (every 20 minutes, 30 minutes, 1 hour etc.). The same individual may also upload or copy numerous files at once, and then review them by viewing the log.
For more information, please click here.
About HotHotSoftware.com
HotHotSoftware is a company that specializes in developing innovative software applications, solutions and utilities that help shorten development time, increase computer user productivity and enhance the overall computer use experience. Applications range from flash based applications, to Microsoft Excel, Word, and Access plugins, to sophisticated utilities. HotHotSoftware has been featured in various online and offline publications, websites, and editorial sites. For complete details, visit hothotsoftware.com. Companies wishing to have custom software development work may also contact HotHotSoftware for a custom quote.