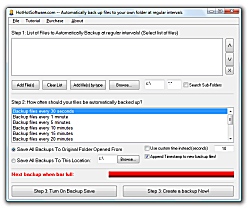 Los Angeles, CA (PRWEB) February 19, 2013
This software is a new utility from HotHotSoftware that is designed for all computer users who have a number of different files that need backing up on a regular basis. It is designed for those who require to easy snapshots of the files, or being able to simply to make consistent backups.
Performing automatic file backups can be done with ease with this utility.
The software features time stamping to log the back up process, easy to use point and click control, and automatic backup. Microsoft Word documents can be added from any where on the users hard drive. Files can be searched for recursively.
The automatically back up files to your own folder at regular intervals software is very customizable to do what needs done. Accomplishing backups can be done in a few mouse clicks.
For more information, please click here.
About HotHotSoftware.com
HotHotSoftware i s a company that specializes in developing innovative software applications, solutions and utilities that help shorten development time, increase computer user productivity and enhance the overall computer use experience. Applications range from flash based applications, to Microsoft Excel, Word, and Access plugins, to sophisticated utilities. HotHotSoftware has been featured in various online and offline publications, websites, and editorial sites. For complete details, visit hothotsoftware.com. Companies wishing to have custom software development work may also contact HotHotSoftware for a custom quote