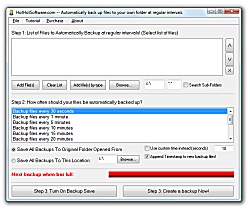 An indispensable tool. Value priced and works great.
Los Angeles, CA (PRWEB) February 20, 2013
With the increased use of computers for all aspects of business and personal communications, there is an enormous growth in the storage of documents, pictures, images and other information on computers everywhere. It becomes more important than ever to be able to securely backup and protect all of these valuable files and information.
With the 'Automatically Backup and Copy Multiple Files to Multiple Directories Software' from HotHotSoftware, computer users of all kinds can easily backup files at regular intervals. There is no longer a need to be concerned whether or not computer files, pictures, documents, and images have been successfully backed up.
System administrators, professionals, administrators and other users that require automatic file backups, remote online backups, a disaster recovery solution, or a requirement for network backups and recovery or simply an archiving tool, can rely on this software solution from HotHotSoftware.
For more information, please click here.
About HotHotSoftware.com
HotHotSoftware is a company that specializes in developing innovative software applications, solutions and utilities that help shorten development time, increase computer user productivity and enhance the overall computer use experience. Applications range from flash based applications, to Microsoft Excel, Word, and Access plugins, to sophisticated utilities. HotHotSoftware has been featured in various online and offline publications, websites, and editorial sites. For complete details, visit hothotsoftware.com. Companies wishing to have custom software development work may also contact HotHotSoftware for a custom quote.