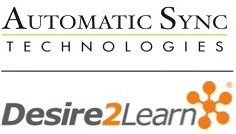 AST's CaptionSync is now integrated within the production and administration features of Desire2Learn Learning Suite and Capture solutions, to support accessibility in education.
EDUCAUSE - Denver, CO (PRWEB) November 06, 2012
Automatic Sync Technologies (AST), a leader in captioning and transcription technology and provider of the CaptionSync video closed captioning service, and Desire2Learn Incorporated, a leader in providing cloud-based learning solutions for higher education, K-12 and Fortune 1000 companies, today announced a technology integration and partnership. AST's CaptionSync is now integrated within the production and administration features of Desire2Learn Learning Suite and Desire2Learn Capture solutions, to support accessibility in education for the deaf and hard of hearing across its customer base.
Both companies are participating in EDUCAUSE 2012, in Denver, exhibiting November 7 and 8. Contact Desire2Learn at booth #1440, and Automatic Sync Technologies at booth #421.
"At Desire2Learn, we believe learning should be accessible to everyone," said Dennis Kavelman, Chief Operating Officer, Desire2Learn Incorporated. "We are pleased to partner with Automatic Sync Technologies, as this integration with CaptionSync allows our clients to automate the captioning process and support accessibility and learning by deaf and hard of hearing students."
The integration enables Desire2Learn products to further support multiple accessibility standards and regulations, as well as U.S. federal mandates, including Section 508 of the US Rehabilitation Act.
"We are excited to partner with Desire2Learn to offer users useful and important accessibility features," said Kevin Erler, President of Automatic Sync Technologies. "Captioning media is vital to make content accessible and ensure compliance with accessibility legislation. This integration allows Desire2Learn customers to meet these needs with a very efficient workflow that reduces labor and costs. We look forward to working with Desire2Learn as it moves ahead into the global marketplace."
About Desire2Learn
Desire2Learn is helping to transform the way the world learns. Providing the next generation learning environment and solutions to engage and inspire lifelong learners, Desire2Learn helps clients break down barriers to access the highest quality learning experiences, and is recognized for its leadership in accessibility. Desire2Learn is a global leader in cloud (SaaS) based learning solutions and provides an open and extensible platform to over 700 clients and over 8 million learners in higher education, K-12, healthcare, government and the corporate sector including the Fortune 1000. Desire2Learn has personnel in the United States, Canada, Europe, Australia, Brazil and Singapore. For more information or to contact us, visit http://www.Desire2Learn.com.
About CaptionSync™
CaptionSync is an innovative, proprietary software service powered by Automatic Sync Technologies, providing high-quality automated captioning with unrivaled speed at a fraction of the cost of conventional captioning. The simple user interface accepts electronic submission of program media and returns standard-format caption files for web-media such as Flash, QuickTime and Windows Media, for platforms such as Ensemble Video, Kaltura, Mediasite, Brightcove, Echo360, Panopto and YouTube, or for DVD authoring and broadcast. CaptionSync can simultaneously generate caption output for multiple types of media from a single submission. AST's CaptionSync provides the Gold Standard in accuracy because it does not rely on speech recognition software and its inherent errors—AST stands apart from other providers of automated captioning for this reason.
About Automatic Sync Technologies
Automatic Sync Technologies (AST) is an industry-leading provider of web-based captioning services for thousands of customers worldwide, enabling accurate video and rich media search and retrieval to public and private sector enterprise. Formed in 1998 and funded in part by an SBIR (Small Business Innovation Research) grant, AST pioneered the automated captioning technology to deliver the most cost-efficient, high-quality, automatic captioning service available today. AST helps government agencies and educational institutions comply with regulations to make advanced communication services accessible to hard of hearing and deaf audiences. Contact AST by email info(at)automaticsync(dot)com, online at http://www.automaticsync.com, or call +1 (877) 278-7962
# # #
All product and company names herein may be trademarks of their registered owners.