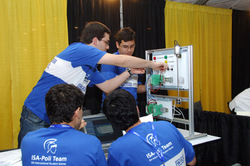 We never get to practice with radios. In our university, we don't have radio stations. This was a special experience. I love this wireless technology
Research Triangle Park, NC (Vocus) December 3, 2008
This year's ISA EXPO celebrated the inaugural Automation Career Week, an event endorsed by ISA and the Automation Federation and supported by Governor Rick Perry (TX). Automation Career Week honored automation professionals' contributions and celebrated the future of tomorrow's workforce. It included several events targeting young automation professionals and aspiring young students with events taking place throughout the week of ISA EXPO, held at the Reliant Center in Houston, Texas, 14-16 October.
ISA's International Student Games
Student teams from Russia, Mexico, Canada, Brazil, Colombia, and the United States competed and demonstrated their skills while having an opportunity to network and meet other students who share their passion for automation and engineering. The competition provided an opportunity for ISA Student Members worldwide to further their knowledge of automation and control technologies, along with enjoying the camaraderie and fun of the competition.
The Houston Games covered two full days of competition and networking as team members and their advisors launched their experience on Monday, 13 October, with Equipment Orientation. This is when teams hear from the providers of the problems and equipment for the Games. This year's equipment sponsors included ABB, Crestron, Phoenix Contact, and Siemens. The opportunity to use equipment that is not in the local lab is a primary benefit of participation in the Games. The following day was the actual hands-on work as the teams carried out their task.
Javier Miroz Lozano from IPN Zacatenco, Mexico, summed up his ISA Student Games experience as special. "We never get to practice with radios. In our university, we don't have radio stations. This was a special experience. I love this wireless technology," he said.
2008 ISA Student Games Winners

Gold: British Columbia Institute of Technology (BCIT), Burnaby, BC, Canada; Ian Ross, advisor
Silver: Lambton College, Sarnia, Ontario, Canada; Mike Grey, advisor
Bronze: ITI Technical College, Baton Rouge, LA; Mark Hughes, advisor
YAPFEST
More than 250 young automation professionals and students from local Houston colleges attended this year's YAPFEST and took part in various activities, including several new sessions:

Keynote presentation from Monte King, Manager of Workforce Development for Shell Oil Company.
Panel discussion focused on workforce development, hosted by Bob Vavra of Plant Engineering magazine. Other panelists included Chip McDaniel of Automation Direct and Greg Hale of InTech magazine.
ISA EXPO show floor tour, guided by Bob Vavra of Plant Engineering Magazine
Attendees brought resumes to generate informal conversations with sponsoring companies looking to bring new talent to the automation workforce.
In addition, attendees had an opportunity to enter several raffles for prizes and scholarships generously sponsored by one of seven YAPFEST sponsors: Plant Engineering magazine, Chevron, Pepperell and Fuchs, Honeywell, Audubon Engineering, Tyco Flow Control, and Bayer.
"What was encouraging about YAPFEST for me was the engagement of the young people, both in the projects and in the industry. These are people who see the potential of a career in manufacturing. What they want and need is the encouragement to know that they're on the right path and that there are people willing to give their time and knowledge to help them along that path. YAPFEST succeeded in both those endeavors, and I'm anxious to participate in next year's event," said Bob Vavra, YAPFEST sponsor and editor for Plant Engineering.
iAU2M8.08
On the final day of ISA EXPO, 400 high school and middle school students joined ISA EXPO for three hours as they learned about automation and the possibilities a career in the automation field can offer. The students learned about automation careers through a tour of exhibits and the ISA EXPO show floor, and a dynamic keynote speaker, John Hanks from National Instruments. Hanks discussed automation careers and possibilities, and is the Vice President of Industrial and Embedded Products at National Instruments. He leads NI's future software and hardware product strategy and marketing.
Sponsoring exhibitors, including Asco Numatics, C-STEM, FIRST, JETS, National Instruments, Shell, Department of Engineering Technology @ University of Houston, and Yokogawa, held presentations at their exhibit space for volunteer-led student groups. "iAU2M8 has been a great experience for all of us. Seeing 400 young students on the EXPO floor and their amazement and interest in the technologies available at EXPO was extremely rewarding. This event shows that the interest is there among our next generation workforce--we just need to take the time and show them just how cool automation can really be," said Steve Huffman, Automation Federation Chairman.
Automation Career Week 2009 is planned during next year's ISA EXPO, 6-8 October, at the Reliant Center. For more information about ISA or ISA EXPO, visit http://www.isa.org or call (919) 549-8411.
About ISA
Founded in 1945, the International Society of Automation (http://www.isa.org) is a leading, global, nonprofit organization that is setting the standard for automation by helping over 30,000 worldwide members and other professionals solve difficult technical problems, while enhancing their leadership and personal career capabilities. Based in Research Triangle Park, North Carolina, ISA develops standards; certifies industry professionals; provides education and training; publishes books and technical articles; and hosts the largest conference and exhibition for automation professionals in North America. ISA is the founding sponsor of The Automation Federation (http://www.automationfederation.org ).
About the Automation Federation
The Automation Federation is a global umbrella organization under which member associations and societies engaged in manufacturing and process automation activities can work more effectively to fulfill their missions, advance the science and engineering of automation technologies and applications and develop the workforce needed to capitalize on the benefits of automation. The Automation Federation is working to become the "Voice of Automation." For more information about the Automation Federation, visit http://www.automationfederation.org .
###