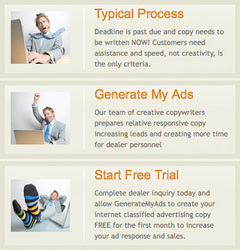 Fort Lauderdale, FL (PRWEB) April 14, 2009
GenerateMyAds™ of Ft. Lauderdale, Florida is expanding their Internet classified advertising copy creation service to qualified franchised automobile dealers nationally. The company's large staff of seasoned ad agency copywriters creates responsive copy to increase dealers' page views of their Internet listings generating more leads and ultimately increasing sales.
Automobile dealers need to utilize any edge they can to drive more traffic to their showrooms. Creative copy is one of the three key components of an effective Internet classified ad. The other two components are digital photos and market driven pricing which are usually successfully handled currently. However, dealers usually lack the specialized personnel or time to produce consistent responsive ad copy. GenerateMyAds™ is a resource that the dealer can utilize 24/7 for a monthly fee to assure that the dealer's Internet classified copy is written to evoke the correct specific call to action from the potential client.
GenerateMyAds™'s ad agency seasoned copywriters take mundane ads such as "Toyota 2008 Prius: Executive Demo Prius, clean Carfax with no accidents, package #2 Call for details today!"
And supercharges them it into: "Join the: Leo and his Hollywood Posse Club, when you drive this like new Executive Demo Prius home today. This Black Onyx beauty has anti-theft, anti-lock brakes, traction control, remote keyless entry, rear spoiler plus much much more. Call or e-mail us today and start saving even more of those gas dollars." A descriptive relevant story is created to increase client awareness and differentiate the copy from the competition.
CEO Lee W. Epstein says, "We are so confident that GenerateMyAds™ can dramatically increase the dealers' page views of their Internet listings that we will create the copy absolutely free for the first month for qualified dealerships up to a maximum of 75 ads. The dealer management team can then see the increased page views for themselves and will definitely become another happy member of the GenerateMyAds™ client family."
About GenerateMyAds™:
GenerateMyAds™ is a technology/marketing company that specializes in developing processes that generate relevant responsive copy consistently for Internet classified advertising channels. These processes incrementally increase clients' page visibility and thereby increase generation of qualified leads.
Contact:
Lee W. Epstein
954-651-1002
lwepstein (at) generatemyads (dot) com
###