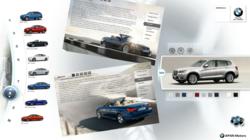 Irvine, CA (PRWEB) July 31, 2012
The newest addition to SensyTouch's industry specific multi-touch solutions portfolio is a fully featured multi-touch automotive application. Designed for automotive showrooms and auto shows, this application combines elegance and functionality to extend an extraordinary customer experience to every corner of the display floor.
The SensyTouch automotive application utilizes stunning graphics, customizable to specific automotive resellers. Through the use of interactive gestures, this SensyTouch application provides showroom visitors with the opportunity to visualize and personalize available models with just a few touches. All of the functionality provided by this application will help facilitate the welcoming atmosphere that every automotive showroom desires.
SensyTouch- Multi-Touch Display Options
SensyTouch offers multi-touch table displays as well as wall mounted displays which range in size from 42"-92". The new automotive application runs seamlessly on any of SensyTouch's multi-touch systems which come complete with a 64 bit Windows 7 System, an Intel i7 Core Processor, 1920X1080p HD resolution, and much more.
SensyTouch- Visualize & Personalize
This new automotive application enables visitors to view different automotive options on any of the vehicles available. With just a touch, users are able to see 360° views of available models, colors, and accessory options.
To make an appointment to demo this application in the SensyTouch showroom, call +1 (714) 396-5102 or email info(at)sensytouch(dot)com
About SensyTouch
SensyTouch, through its excellence in innovative design and engineering, develops and markets a premium range of multi-touch systems and solutions. With years of software development experience, SensyTouch specializes in creating intuitive multi-touch applications, designed to provide an extraordinary user experience. SensyTouch's systems are remarkably thin and highly responsible, which makes them suitable for a number of different applications and industries.
To learn more about SensyTouch displays and solutions, visit http://www.sensytouch.com