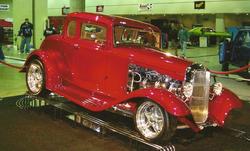 Judges as well as show attendees really responded positively to this car
Hackettstown, N.J. (PRWEB) March 13, 2010
Phoenix Rod & Custom, LLC, a custom hot rod and auto restoration shop in Hackettstown, N.J., took home the "Best in Class" prize for its entry, a 1932 Ford coupe named "Victoria's Deucenberg" at the Detroit AutoRama car show in Detroit, MI. The show was held February 26-28, 2010. The 5-window fully restored car took first place in Altered Street Coupes, Pre-1935; over 25 cars competed in this class. The show marked the official debut of Victoria's Deucenberg, which underwent a complete makeover and customization over a four-year period by the professionals at Phoenix.
"Judges as well as show attendees really responded positively to this car," said Glenn Smith, owner of Phoenix Rod & Custom. "People were photographing it non-stop, starting with the setup day and over the three show days," he added, noting that the car was featured in the Detroit Free Press, the city's daily newspaper.
Victoria's Deucenberg is notable for its bright Candy Red paint color, extensive chrome trim and custom features. It boasts a custom dashboard, custom emblems, custom wheels, and an elaborate interior with faux crocodile leather. Earlier this winter another Phoenix Rod & Custom entry won first place in its class at the Cavalcade of Cars in Cincinnati, Ohio, and had also won at last year's AutoRama.
The AutoRama, held every year in Detroit, is a car enthusiast showcase of classic, vintage and late model customized automobiles. Phoenix Rod & Custom, a family-owned and operated shop, has entered dozens of winning cars at AutoRama and other classic car shows around the country; the shop's restored and customized vehicles have been featured over the years in national hobbyist and trade publications.
Smith has been restoring and customizing automobiles for over 25 years and opened Phoenix Rod & Custom in 1998. The shop, located at 112 East Avenue in Hackettstown, specializes in creating unique customized hot rods and muscle cars, from concept through completion. Its professionals also build, service, and maintain all makes and models of classic automobiles, and provide restoration services for classic, vintage and special interest automobiles. For more information about Phoenix Rod & Custom's services, visit their website at http://www.phrod.com or call 908-979-3070 or email info(at)phrod(dot)com.
###