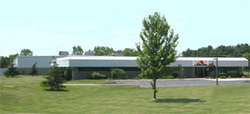 Grand Blanc, MI (PRWEB) June 18, 2008
Azentek, the premier manufacturer of in‐vehicle infotainment systems for both OEM integration and aftermarket sales, today announced it will invest $3 million to consolidate current operations and expand to a leased light industrial facility in Grand Blanc. As part of this major expansion, Azentek plans to create 198 new jobs, including 78 directly employed by the company.
"With personal computers and the internet becoming an essential part of our lives, Azentek is the first company to deliver a safe and easy‐to‐use PC solution that integrates with your car," said Johnny Cooper, Azentek's President & CEO. "We're at the forefront of making history with the Azentek Car PC. In the very near future, having a PC in your vehicle is likely to be just as common as owning a cell phone."
As incentive for Azentek's operations to remain in Michigan rather than relocate to a competing site in China, the Michigan Economic Growth Authority today approved a state tax credit valued at $1.5 million over 10 years, based on a recommendation by the Michigan Economic Development Corporation. Additionally, the Grand Blanc township is considering a six‐year abatement valued at $36,065 to support the project.
"Azentek is an innovative company doing exciting work, and we are thrilled to support their continued growth in Michigan," Governor Jennifer M. Granholm said. "Our competitive business climate and outstanding workforce make Michigan a great place for high‐tech companies to invest and create jobs."
"We are very proud to be working in the state of Michigan," stated Jack Duckworth, CFO of Azentek. "It is a prestigious honor to be recognized by the Michigan Economic Development Corporation and the Michigan Economic Growth Authority for our company's growth potential in today's highly competitive marketplace."
Over the coming months, Azentek will finalize their relocation into the new 45,000 square foot state-of-the-art facility on Holly Road in Grand Blanc. This location will be used for administration, R&D, product testing and certification, sales and marketing, warehousing and storage, as well as final product assembly.
About Azentek:
Azentek, LLC. is a highly innovative manufacturer of cutting‐edge technologies for the automotive consumer and industrial markets. Specializing in PC‐based solutions, Azentek is poised to make history with the very first all‐in‐one infotainment systems available for both the OEM and aftermarket. With a dedicated in‐house R&D department that has spent many years to finalize the perfect "Car PC", Azentek will soon be launching a complete line, beginning with the Atlas CPC‐1000, in late 2008.
For more information, please visit http://www.azentek.com.
###