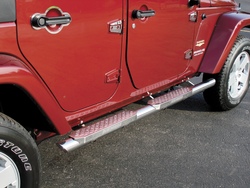 We have always been responsive to the marketplace. I must admit though that the universal success of The RealStep™ was a pleasant surprise even to us
Gurnee, IL (Vocus) January 29, 2009
When Chicago area accessory manufacturer RealWheels Corporation developed The RealStep™, safety was their goal. Millions of trucks and SUVs across North America feature 3" tubular step bars along the side of the vehicle. Their owners often complain about the small, unattractive plastic step pad that is commonly used for stepping up into the truck. When wet, they become slippery, and after time, often curl up or fall off the vehicle altogether.
The award-winning team at RealWheels responded with a stainless steel cover, designed to fit directly over the plastic step. It is wider that the usual plastic step, and features a non-slip tread pattern called RealGrip. "We were excited to offer a much safer step, but most customers are buying them for one reason… they look COOL," explains Jhan Dolphin, RealWheels Vice President of Marketing. "I'm sure that there are many vehicle owners who appreciate the safety benefits, but appearance seems to be the overwhelming motivator."
"Immediately after the product was featured on SPEED channel's TRUCKU television series, we realized that The RealStep™ was going to be one of our most popular products," added Dolphin. "Thousands of potential customers were driving around with 3" diameter side bars, and the same unattractive plastic steps as everyone else. The phones started to ring!"
With its broad brand application, The RealStep™ has been especially attractive to auto parts dealers and distributors. "They are looking at limiting inventory and the number of SKUs," Dolphin continued. "When a product is useful to such a large segment of the market and fits so many vehicles, dealers and retailers take notice."
The product is manufactured from polished stainless steel for lasting shine and durability that won't rust, and it features a rugged non-slip surface. It is also available in a black powder-coated finish and optional LED lights can be purchased for an enhanced custom look. Installation is simple with no drilling required, and can enhance the looks (and safety) of the vehicle in minutes.
"We have always been responsive to the marketplace. I must admit though that the universal success of The RealStep™ was a pleasant surprise even to us," concluded Dolphin. RealWheels has produced a promotional video from its appearance on television and has now developed POP displays for their retailers. For more information about The RealStep™ and the complete line of RealWheels accessories visit http://www.realwheels.com.
About RealWheels Corporation
RealWheels is located near Chicago and has been designing accessories for a wide variety of vehicles since 1980. They manufacture a complete line of innovative billet aluminum and stainless steel accessories to visually enhance vehicles of all styles and shapes. They are also the exclusive American manufacturer of stainless steel wheel covers, wheel simulators, high hats and baby moon covers for commercial vehicles. RealWheels is also internationally recognized for their award-winning project vehicles.
Media Contact:
Jhan R. Dolphin
Vice President Mktg.
RealWheels Corporation (RWC)
(800) 982-1180
(847) 910-2248 cell
# # #