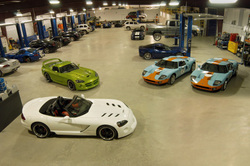 This is a tremendous opportunity for HPE, Tuner School and Lonestar
Sealy, Texas (PRWEB) July 24, 2009
Hennessey Performance Engineering (HPE) announced today it has joined forces with California-based C&D Performance. The new partnership will bring together HPE, Lonestar Motorsports Park and the newly established Tuner School--all under the same management group. Effective immediately, C&D Performance CEO Don Goldman assumes the role as CEO of HPE, Tuner School and Lonestar who will be tasked with handling the companies' business operations. HPE founder, John Hennessey, will remain President of HPE with focused interest on new product design, development and marketing.
"This is a tremendous opportunity for HPE, Tuner School and Lonestar," said John Hennessey. "While other companies in the automotive business have substantially cut back or gone out of business, HPE has been experiencing growth with all three of our companies. The new partnership gives us the additional resources and talent needed to better meet the needs of our clients as well as to substantially expand our operations. Don's strong track record in business growth will give us the depth in management that is needed to move our companies to the next level."
To meet HPE's growing needs, improvements will soon include:
Hennessey Performance Engineering

Increasing main HPE facility from 24,000 square feet to 30,000 square feet
Addition of an all-wheel-drive chassis dynamometer
Addition of a 4-wheel suspension alignment machine
Increased production staff
Increased parts inventory
Increased production capacity
Increased focus on customer satisfaction
Lonestar Motorsports Park

Addition of a 1.1-mile road race course linked to existing ¼-mile dragstrip
Addition of a dedicated 0.8-mile karting track
Tuner School

Addition of nationally recognized automotive experts as adjunct instructors to expand curriculum, offer career guidance and teach driving/testing techniques
Full utilization of Lonestar Motorsports Park
Hands-on education utilizing both RWD and AWD chassis dynamometers
Increased classroom size and larger workshop space within the HPE facility
About Hennessey Performance Engineering
HPE is one of the premiere automotive aftermarket tuners in the world. The company, founded by John and Hope Hennessey, builds some of the world's fastest and most powerful sports cars, musclecars and sport-utility vehicles that have been praised by the automotive media as well as have set numerous world first's and/or world records. HPE is located at Lonestar Motorsports Park in Sealy, Texas (45 minutes west of Houston, Texas).
About Lonestar Motorsports Park
Lonestar operates a 1/4-mile dragstrip and is situated on 143 acres adjacent to Interstate 10 in Sealy, Texas (45 minutes west of Houston and 90 minutes south of Austin). HPE and Tuner School are located on the Lonestar campus and both companies use the track facility to test vehicles and instruct Tuner School students.
About Tuner School
Tuner School is the world's first school dedicated to teaching the fundamental skills of automotive aftermarket high-performance tuning. Located on the Lonestar campus, the 14 week Tuner School program is conducted at the HPE facility 3 times per year (Fall, Spring and Summer sessions). Tuner School students learn in three real world classrooms: The HPE R&D facility, chassis dynamometer (for engine tuning and testing) along with at the 1/4-mile dragstrip.
Media Inquiries
John Hennessey
Phone: (979) 885-1300
Email: media(at)hennesseyperformance(dot)com
###