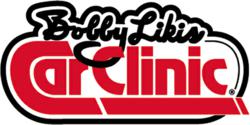 "The next Car Clinic Sweepstakes will be bigger and better than ever."
(PRWEB) December 23, 2011
After enjoying stuffed stockings on Christmas morning, Brad Cobb in Fredericksburg, VA and David Collins in Sacramento, CA will find more presents on their doorsteps next week. Mr. Cobb, who listens to "Bobby Likis Car Clinic" via podcast and enjoys Likis's posts on Facebook, will keep warm this Virginia winter in a leather jacket, compliments of Royal Purple High Performance Motor Oil. Mr. Collins, a college student & driver of a 1992 Dodge Dakota, will find an oversized goody box stuffed with Bar's Leaks and Rislone products just right for revving up his 20-year-old vehicle, and the $200 gift card will come in handy for his 24th New Years Eve.
Several times a year, the "Bobby Likis Car Clinic" Network partners with select sponsors to give away valuable prizes to Car Clinic listeners, viewers, podcasters, chatroomers, Facebookers, Twitter followers and YouTube subscribers. Says Likis, "The next Car Clinic Sweepstakes will be bigger and better than ever."
About Bobby Likis: Bobby Likis is the only car-talk host on commercial radio named to the "Talkers 250," the list of the top 250 talk-show hosts in America for 4 consecutive years. Likis also owns & operates an award-winning automotive service facility. For more information about automotive expert Bobby Likis and the Car Clinic Network, visit http://www.CarClinicNetwork.com.
Got a car question of this car expert? Call live every Saturday, 10a-12n ET, 888-Car-Clinic (888-227-2546)
No question? Then tune in for a fast ride every Saturday, 10a-12n ET, Car Clinic live videocast: http://www.WatchBobbyLive.com
###