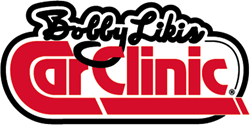 The response has been overwhelming, as folks relive landmark driving experiences and honor their dads. Some stories are funny and some tug at the heart strings, but all are very personal. - Bobby Likis
(PRWEB) June 05, 2014
Bobby Likis, automotive expert and host of car-talk show "Bobby Likis Car Clinic," is collaborating with partners at ESCORT, Inc to give away a PASSPORT Max HD radar/laser detector ($550 value) live on the Car Clinic globalcast on Saturday, June 14 through the "Car Story with Dad" Father's Day contest.
"Car Story with Dad" is an opportunity for participants to share their favorite car story about their father, or as the father to their own children. Every week, Likis will select stories to read live on air and encourages entrants to send photos along with their stories.
Says Likis, "The response has been overwhelming, as folks relive landmark driving experiences and honor their dads. Some stories are funny and some tug at the heart strings, but all are very personal. What a privilege for me to share these slices of driving life!"
The winner, as chosen by the Car Clinic team, will win an ESCORT PASSPORT Max. The PASSPORT Max is the first radar detector with HD radar performance and is compatible with Escort Live, Escort's social networking for the road. Equipped with unique Escort features like AutoLearn and the DEFENDER Database, the PASSPORT Max delivers quicker response time, greater sensitivity and more accurate signal recognition. The Passport MAX also features high-speed, digital-signal processing which removes RF interference and identifies radar threats other detectors won't see.
To enter, send your "Car Story with Dad" to CarStory(at)CarClinicNetwork(dot)com by Friday, June 13, at 1p ET.
All drivers are invited to tune in to the live videocast from the Car Clinic studio at WatchBobbyLive.com. The toll-free hot-line, 888-Car-Clinic (888-227-2546), opens at 10a ET and closes at 12n ET.
About Bobby Likis Car Clinic and the Car Clinic Network:
"Bobby Likis Car Clinic" is the largest car-talk program/network on commercial radio, multiple web audiocasts, live video streaming webcast, podcasts (including iTunes), iPhone, chat room, YouTube, Facebook, Twitter, American Forces Radio Network & television. Car Clinic can be heard and seen on Saturdays, 10a-12n ET, live at WatchBobbyLive.com and on Facebook.com/BobbyLikis. Host Bobby Likis is the only car-talk host on commercial multi-media platforms named for five consecutive years to the "Talkers 250," the prestigious list of the top 250 talk-show hosts in America.
About ESCORT Inc.:
ESCORT Inc. is the leading manufacturer of high-performance radar and laser detectors and other consumer electronics products including the patented ESCORT Live™ real-time ticket protection network, ESCORT MobileTV™, Guardian Alert reverse obstacle detection systems, Entourage GPS-enabled navigation and tracking products, ESCORT QuickStart™ and other Drive Smarter products. ESCORT manufactures products under the ESCORT, PASSPORT, Max, REDLINE, SOLO, STi Stealth, Vector and BELTRONICS brands. The company is headquartered in West Chester, Ohio, with its principal manufacturing facility located in Mississauga, Ontario, Canada.