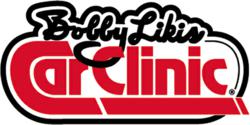 Jeff was pre-loaded for respect due to his relationship with Cale Yarborough...whom I admire and who has also shared the mic with me.
(PRWEB) September 26, 2012
When not roping and riding and steer wrestling, Jeff Hammond dabbles in cars, so "Bobby Likis Car Clinic" host Bobby Likis invited Jeff to join him on last Saturday's Car Clinic globalcast. Their on-air conversation raced from Jeff's early career as a tire changer for Walter Ballard to crew chief for NASCAR legend Cale Yarborough and for the Junior Johnson/Darrell Waltrip team to Jeff's predictions in this year's Race for the Chase. "Bobby Shares the Mic with...Jeff Hammond" is a captivating evesdrop as two "car guys" talk.
Interestingly, Likis discovered that Hammond works in his own garage and barn, tending to horses under the hood and on the hoof. And just as Likis traded in cloth shop rags for Scott® Pro Shop Towels in his award-winning automotive service shop, Hammond also uses Scott® Pro Shop Towels. Says Hammond, "You can wash a horse with them or clean grease off the garage floor." Hammond invited Likis's Car Clinic listeners and viewers to enter the "Take the Challenge" sweepstakes for a chance to win a new 2012 Dodge® Challenger, a trip to Nashville for two and a car cover made with a Block-It® Fabric by Kimberly-Clark, custom tailored by Covercraft.
About Bobby Likis: For more information about automotive expert Bobby Likis and the Car Clinic Network, visit CarClinicNetwork.com. For details about Bobby Likis's automotive service shop, visit CarClinicService.com. Join Bobby on Facebook at Facebook.com/BobbyLikis; on Twitter at Twitter.com/BobbyLikis; and on YouTube at YouTube.com/BobbyLikis.
About Scott® Pro Shop Towels: Made with innovative HYDROKNIT* Material Technology, Scott® Pro Shop Towels are 3 times stronger when wet than Original SCOTT® Shop Towels. Scott® Pro Shop Towels are durable, solvent-resistant and reusable. Available at AutoZone, Advance Auto, O'Reilly Auto Parts and select Wal-Marts. For more information and to enter to win a 2012 Dodge Challenger SRT and a trip for two to Nashville awarded in November at ScottProShopTowels.com.