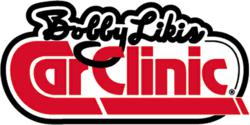 Reflects Likis, "What I heard during these interviews from the LA Auto Show is more about the 'next' than GM's 100-year past. Fast-forward to future is a good way to stay – and thrive – in business."
Los Angeles, CA (PRWEB) November 30, 2011
Celebrating 100 years, General Motors execs had more to say about the automotive industry's future than GM's past during interviews with Bobby Likis from the Los Angeles Auto Show. Ed Welborn (Vice President, Global Design) reveals details on the 2013 Cadillac XTS, Spark mini-car and Chevy Camaro ZL-1. Eric Clough (Director of Design, Interiors and Cadillac CUE) gives a verbal guided tour of CUE system – that's GMese for Cadillac User Experience – that delivers leading edge in-car connectivity. Using touch & haptic (or tactile) feedback, voice interaction & even a button or two, CUE sports "intuitive & connective" driving. Jeanne Merchant (Vehicle Line Director) shares how the new Cadillac XTS is going head-to-head with the most popular German luxury brands. Tom Peters (Director of Design, Chevy Camaro ZL1) talks muscle cars – most notably the Chevrolet Camaro ZL1 – high performance and an impressive Nürburgring test track time of 7:41:27. And finally, Niki Smart (Design Manager, Ciel) connects the dots between the French origin of Cadillac & the luxury concept car, Ciel.
Says Likis, "What I heard during these interviews from the LA Auto Show is more about the 'next' than GM's 100-year past. Fast-forward to future is a good way to stay – and thrive – in business."
For recordings of all interviews, go to http://www.BobbyLikisInterviews.com.
About Bobby Likis: Bobby Likis is the only car-talk host on commercial radio named to the "Talkers 250," the list of the top 250 talk-show hosts in America for 4 consecutive years. For more information about automotive expert Bobby Likis and the Car Clinic Network, visit http://www.CarClinicNetwork.com.
Got a car question of this car expert? Call live every Saturday, 10a-12n ET, 888-Car-Clinic (888-227-2546)
No question? Then tune in for a fast ride every Saturday, 10a-12n ET, Car Clinic live videocast: http://www.WatchBobbyLive.com
###