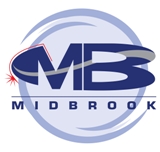 Jackson, MI (Vocus/PRWEB) February 28, 2011
Midbrook, Inc., the Jackson, Michigan, based manufacturer of industrial parts washing equipment recently helped a local supplier to develop and implement a washing process for a new part. Midbrook was able to develop a washing process, conduct cleanliness testing in their in house technology center, and implement the process on their own floor.
The Michigan based supplier approached Midbrook to discuss a new project they were starting that would require a new washing process. Having worked with Midbrook several times in the past, they were familiar with their capabilities and experience in the washing industry and felt that they would be able to provide input regarding the best way to clean the parts, which were small tubes and corresponding caps.
To address this cleaning issue, Midbrook used their nearly 40 years of experience and the wide range of equipment available at their facility to test a number of different processes, looking for a solution that would be simple and easily repeatable, yet effective enough to achieve the strict cleanliness specification required by the customer.
The first step was to design fixtures that could hold the tubes in and orientation that would give their washers access to both the inside and outside of the tubes. Then, Midbrook was able run sample tubes through a variety of different types of washers, using their own in house laboratory equipment to perform cleanliness testing to determine the effectiveness of each process. Doing all of the testing and experimentation in house greatly reduced the amount of time it would ordinarily take a customer to develop and prove out a wash process.
Once the best process for cleaning the tubes was determined, Midbrook presented their findings to the customer. Due to the timing and expense of the project it was not feasible for them to wash the parts at their facility. Instead, Midbrook set up a production schedule under which a certain amount of tubes and caps would be delivered to Midbrook each month, washed and returned to the customer. This allowed the customer to avoid the capital investment required to purchase their own washing equipment, and allowed Midbrook to wash the parts in the same equipment and under the same conditions used to test the process, ensuring that the results would be consistent and repeatable.
Midbrook's production washing capabilities can be an ideal solution for customers such as this who need to clean new parts, but are unable to purchase new equipment, due to financial or time issues. They can send their parts to Midbrook to have them washed and either returned or sent on to a different end user. This can lead to significant savings compared to the cost of purchasing and operating their own equipment.
Midbrook is the minority owned, world leading provider of process specific, high volume aqueous part cleaning systems, sealed solvent cleaning systems, water bottling equipment, and medical decontamination equipment.
For more information about Midbrook and their production capabilities, visit http://www.midbrook.com or call 1-517-787-3481.
###